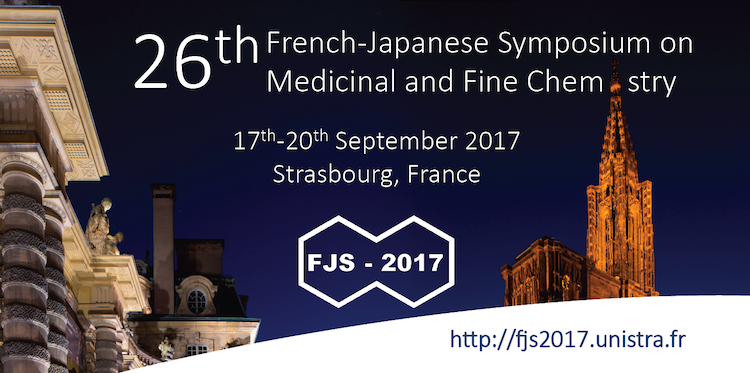 26th French-Japanese Symposium on Medicinal and Fine Chemistry
17th-20th September 2017, Strasbourg, France
http://fjs2017.unistra.fr
This conference brings together industrial and academic researchers from both countries with an interest in all cutting-edge aspects of organic chemistry, from synthetic methodology to medicinal chemistry. Besides the lectures given by invited speakers, a poster session will be organized to give every participant an opportunity to present his/her work. Scientific excellence and friendly exchanges are two important pillars of the FJS.
Contact
Cellule Congrès Unistra
19 rue du Maréchal Lefebvre
67100 Strasbourg
Phone : 0033 3 68 85 49 40
This email address is being protected from spambots. You need JavaScript enabled to view it.
Rates
Academic: 400 €
Industry: 550 €
Student: 200 €
Gala Diner: 60 €
Important Dates
January conference registration opens
June 15th deadline for submission of abstracts
July 15th deadline for registraJon
Website
---
David Spichiger, SCS
10.02.2017