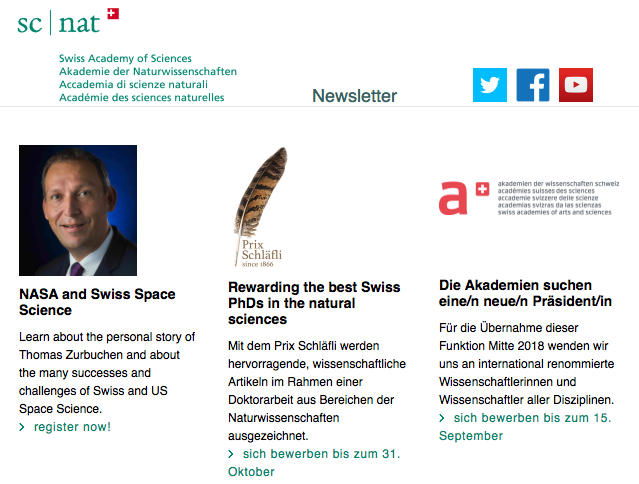 ---

NASA and Swiss Space Science
Learn about the personal story of Thomas Zurbuchen and about the many successes and challenges of Swiss and US Space Science.
> register now!
Rewarding the best Swiss PhDs in the natural sciences
Mit dem Prix Schläfli werden hervorragende, wissenschaftliche Artikeln im Rahmen einer Doktorarbeit aus Bereichen der Naturwissenschaften ausgezeichnet.
>sich bewerben bis zum 31. Oktober
Die Akademien suchen eine/n neue/n Präsident/in
Für die Übernahme dieser Funktion Mitte 2018 wenden wir uns an international renommierte Wissenschaftlerinnen und Wissenschaftler aller Disziplinen.
> sich bewerben bis zum 15. September
Fernerkundung: Anwendungen für Hydrologie und Limnologie
Diese Tagung gibt einen Überblick über den Stand der Entwicklung, zeigt Anwendungen von der Gletscherforschung bis zur Wirkungskontrolle bei Flussrevitalisierungen und diskutiert das Potential für die Zukunft.
> sich anmelden bis zum 20. August
K3 – Kongress zu Klimawandel, Kommunikation und Gesellschaft
Wie kommt man über Klimawandel und Klimaschutz ins Gespräch? Wie gelingt Klimakommunikation? Eine Konferenz in Salzburg bringt hierzu erstmals die Klimacommunity aus Deutschland, Österreich und der Schweiz zusammen.
> melden Sie sich an!
Swiss Geoscience Meeting 2017: call for abstracts
The 15th edition of the Swiss Geoscience Meeting will focus on the latest advances in research in geosciences.
> submit your abstract until 31.08.2017
Gene Drive – eine Technik für die Manipulation wilder Populationen
Öffentliches interdisziplinäres Symposium über Möglichkeiten und Grenzen, Chancen und Risiken der Gene Drive Technologie.
> mehr Informationen und Anmeldung bis zum 11. September
Silvio Decurtins und Christophe Rossel neu im Vorstand der SCNAT
Der Chemiker Silvio Decurtins von der Universität Bern und der Physiker Christophe Rossel vom IBM Forschungslabor Zürich wurden von den Delegierten in den Vorstand gewählt.
> mehr dazu
weitere Veranstaltungen der SCNAT
---
Akademie der Naturwissenschaften Schweiz (SCNAT)
Haus der Akademien | Laupenstrasse 7 | 3008 Bern
Pascal Blanc | Tel. 031 306 93 23 | www.scnat.ch
Fragen und Anregungen: This email address is being protected from spambots. You need JavaScript enabled to view it.