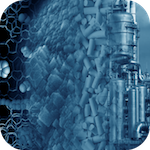 Wed, 13. - Fri 15. June 2018,
City Hotel Oberland, Interlaken, Switzerland
---
The SCS Seminar series addresses topics of relevance in industrial R&D that are usually not covered in the academic curricula. The focus is on problem solving, actively involving the participants. The goal of the seminar series is to establish a link between academic and industrial research.
Catalysis Across Scales will embrace heterogeneous, homogeneous, and bio- catalysis and cover all stages of catalyst development from active site design to industrial process implementation. See Program for more details.
The body of instructors comprises thirteen experts, six of them from industry.
The participants will be actively involved in the program. Each lecture will be followed by an extensive discussion moderated by the session chairperson. Questions may be posted electronically during the lectures. In addition, teams of students working on practical challenges in catalysis, coached by the instructors, will be formed. The outcome of the work will be shared in short presentations.
This SCS seminar marks an excellent opportunity for scientists interested in catalysis to broaden their knowledge, to connect with experts in this field, to establish a network within the Swiss catalysis community, and to have a better understanding of industrial catalysis.


| | | |
| --- | --- | --- |
| Fees | SCS members | non-members |
| Students, PhD, Postdocs | CHF 500 | CHF 600 |
| Other participants | CHF 1'000 | CHF 1'200 |

The registration fee entitles to the admission to the school and covers full board accommodation at the event location.
Due to the generous support of our sponsors, early bird conditions can be offered to all participants.
Deadlines
13.05.2018 Deadline for registration
13.06.2018 Start of the SCS seminar 2018/1
Please find more information on the Seminar's website
http://scg.ch/scs-seminars/2018-1
We hope to see you in Interlaken. Best,
Prof. Javier Pérez-Ramírez, ETH Zurich
Prof. Christophe Copéret, ETH Zurich
Dr. Hans Peter Lüthi, SCS Foundation
SCS Seminar Series
The SCS Seminar series targets PhD students, Postdocs as well as junior scientists from industry, and will be led by senior scientists and designated experts.
Active participation is key for all attendees. A good mix between
theoretical lectures,
reports of concrete projects from industry,
interactive workshops/panel discussions and
short presentations by participants
will guarantee a maximum of impact. Each participant brings along a specific challenge out of his daily lab work and will present a poster of the current work.
---
David Spichiger, SCS
12.04.2018