---
The 'Call for Contributions' for the SCS Fall Meeting 2014 is open!
The deadline for abstract submission is May 18, 2014.
---

The registration and abstract submission process is supported by the SCS Conference Tool.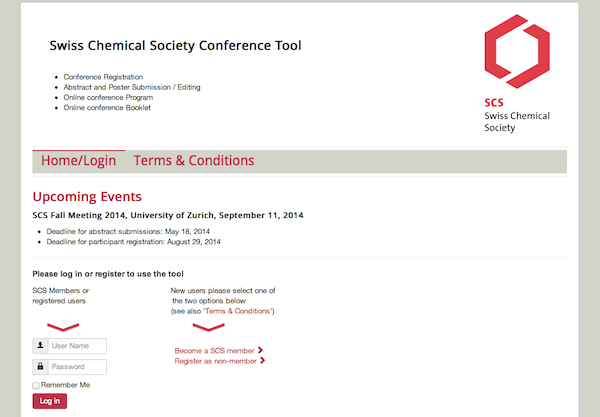 Login process
To log in please use one of the following two options:
SCS Members: use your SCS login. If you forgot your login name or/and password, please click here
Non-members of the SCS: you have to register to the tool. Please see also the 'Terms & Conditions' for more details.


Registration and abstract submission
After the login process go to 'Events' and choose one of the following two options:
Register and hand in your abstract for a poster or a short talk. After the review process the scientific committee will inform you if your contribution(s) is/are accepted. Further details will be provided in June/July 2014.
Register without abstract submission: join the SCS Fall Meeting as participant and profit from all of its offers.
Support
For technical support please see the quick guide with instructions how to use the 'SCS Conference Tool'.
If you have any questions please contact the conference secretariat.
Swiss Chemical Society (SCS)
Schwarztorstrasse 9
3007 Bern
Diese E-Mail-Adresse ist vor Spambots geschützt! Zur Anzeige muss JavaScript eingeschaltet sein!
+41 31 310 40 90
We are looking forward to seeing you in Zurich on September 10, 2014!


---