Dr. Max Lüthi Award
CHF 1'000 and medal in bronze
The Dr. Max Lüthi Award is presented for outstanding degree theses completed in the chemistry department of a Swiss University of Applied Sciences. Nominations must be submitted by the respective chemistry department heads. The prize is awarded annually.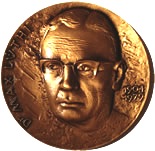 Nominations are invited from the directors of Chemistry Departments of Swiss Universities of Applied Sciences. Self-nominations are not admitted.
A nomination must include:
Brief curriculum vitae/s of the proposed nominee/s (max 2 pages).
A copy of the proposed nominee/s diploma thesis.
A nomination letter.
Not more than two seconding nomination letters.
The documents (language E/D/F) listed under 1-3 should be sent electronically as a single pdf file to   (e.g. nominee name-Lüthi.pdf). Seconding letters should also be submitted electronically.
The deadline for all documents to reach the Swiss Chemical Society is September 30, 2023.
Past Dr. Max Lüthi Award Winners