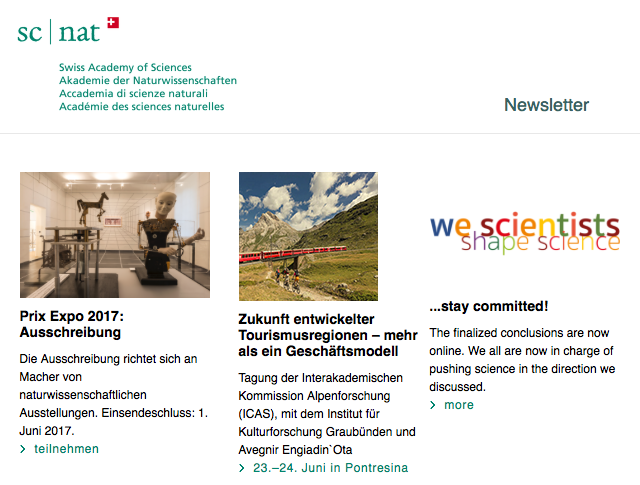 ---

Prix Expo 2017: Ausschreibung
Die Ausschreibung richtet sich an Macher von naturwissenschaftlichen Ausstellungen. Einsendeschluss: 1. Juni 2017.
> teilnehmen
Zukunft entwickelter Tourismusregionen – mehr als ein Geschäftsmodell
Tagung der Interakademischen Kommission Alpenforschung (ICAS), mit dem Institut für Kulturforschung Graubünden und Avegnir Engiadin`Ota
> 23.–24. Juni in Pontresina
...stay committed!
The finalized conclusions are now online. We all are now in charge of pushing science in the direction we discussed.
> more
Morgen: Symposium zur Ehre von André Aeschlimann
André Aeschlimann ist am 4. März 2016 im Alter von 86 Jahren verstorben. Die Universität Neuchâtel ehrt diese Persönlichkeit im Rahmen eines Symposiums und lädt alle Personen ein, die ihn durch seine berufliche Karriere begleitet haben, zum Beispiel als Präsident der Akademie der Naturwissenschaften Schweiz.
> mehr Informationen und Anmeldung zum Symposium am 24. März in Neuchâtel
Phantasie der Wissenschaften
Friedrich Dürrenmatt (1921-1990) ist einer der ganz wenigen Schriftsteller und Künstler des 20. Jahrhunderts, der sich zeitlebens leidenschaftlich für die Wissenschaften interessiert hat.
> eine Ausstellung am Centre Dürrenmatt in Neuchâtel
Wasserschloss Schweiz in Gefahr?
Das Wasserschloss Schweiz, ein scheinbar unerschütterlicher Mythos, gerät zunehmend aus dem Gleichgewicht: Gletscherschwund, steigende Schneefallgrenze, vermehrte Wasserknappheit oder Extremniederschläge. Die intensive Nutzung der Gewässer, u.a. für die Wasserkraft, löst zudem Artensterben aus.
> am eco.naturkongress am 31. März 2017 in Basel teilnehmen
> Workshop Citizen Science und Wasser
> Workshop Koordination im Wassersektor: Die Rolle von Politik-Foren
Wissenschaftliche Unterstützung zur Umsetzung der Globalen Nachhaltigkeitsziele in der Schweiz
Zur nationalen Umsetzung der 17 «Globalen Nachhaltigkeitsziele» (Sustainable Development Goals, SDG) bis 2030 setzte der Bundesrat auch eine Begleitgruppe ein mit Vertreterinnen und Vertretern aus Privatwirtschaft, Nichtregierungsorganisationen, Verbänden und der Wissenschaft.
> mehr
weitere Veranstaltungen der SCNAT
---
David Spichiger, SCS
31.03.2017