The Fall Meeting of the Swiss Chemical Society (SCS) is dedicated to young scientists in all fields of chemistry. They are invited to present an abstract for a poster or, optionally, for an oral presentation. From the abstracts for oral presentations, the Program Committee will select those submissions that represent highest quality and that fit best into the program of the respective session.
The pre-registration deadline is over. However, you can still join the meeting. Please proceed to the desk for day entries (red tablecloth) when arriving on September 15.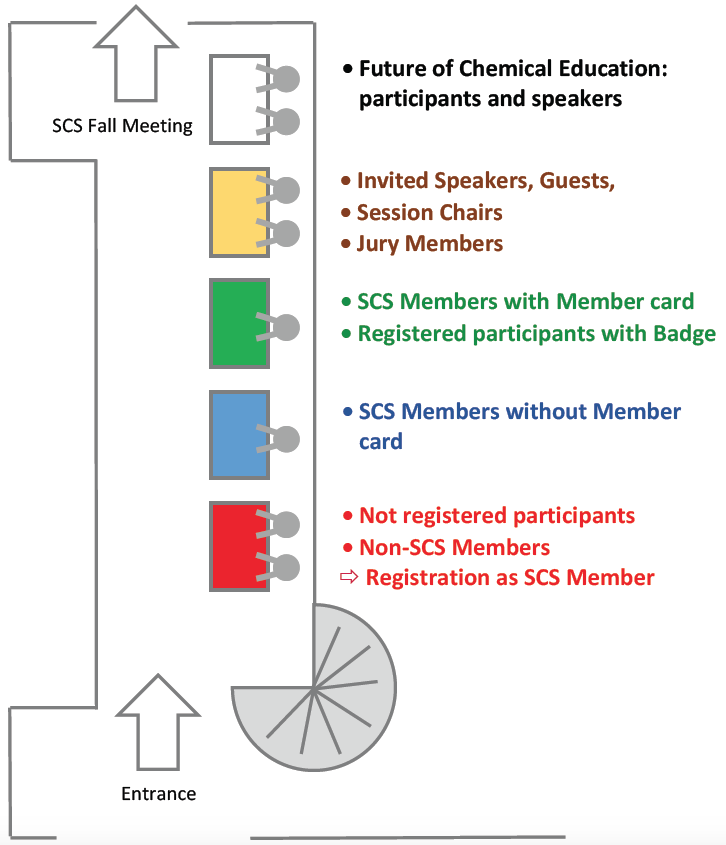 Fees for Presenters (Poster or Talk)
SCS Members: free of charge (she/he, whose name is underlined in the abstract)
Non members: CHF 250.-- (+VAT)


For cancellations of accepted abstracts an administration fee of CHF 50.00 has to be paid.
No-shows will be charged a penalty of CHF 50.00.
Fees for Participants
SCS Members: free of charge
Non members: CHF 50.-- (+VAT). Pre-registered participants will get an invoice in advance to avoid waiting at the check in desk. Pre-registration is possible until August 21, 2016.
If attending as an SCS member you have to bring your SCS membership-card with you!
---
SCS Membership
A SCS membership offers many benefits. For information please see the SCS webpage. To join the society you can register via the online formular.
After the registration as a member, your login data can be used for the SCS Conference Tool as well.
---
Coffee Breaks and Lunch
Refreshments will be served before the Opening Ceremony and during the breaks.
Lunch Sandwiches and drinks will be served during the lunch break.
There is the option to buy lunch at your own expense at the cafeterias and restaurants located in the vicinity of the meeting venue.
Connection to the Internet
Access to the internet will be provided by a wireless LAN (Wi-Fi) network. Members of institutions participating to the Switch-Mobile project (all swiss universities) will be able to connect by simply using their usual VPN client software. Other users will have to register first through a secured web page.
---
Registration deadlines
for abstract submission: May 20, 2016 via SCS Conference Tool
pre-registration for participants: August 23, 20161)
on-site registration for CHF 50.00 possible2)
1) mandatory if you like to pay by invoice or with credit card (PayPal)
2) proceed to to the registration desk on September 15. Queue time possible.
---