48th International Symposium on High Performance Liquid Phase Separations and Related Techniques - Milan 2019
Sophie Bravo-Veyrat, University of Geneva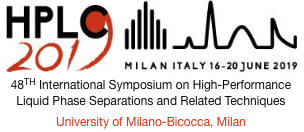 HPLC 2019 was held in Milan, Italy, from 16-20 June 2019. This conference is the most important international symposium about high-performance liquid phase separations and related techniques. This year it gathered industrial and academic researchers from more than 50 countries, in the Milano-Bicocca University in order to share recent and exciting research projects.
This symposium covered both fundamental and practical aspects of separation sciences, focusing on new and highly relevant trends in that fields. This year, a particular emphasis has been placed on hyphenated techniques, and more specifically on liquid chromatography coupled to mass spectrometry. Being my research project field I could give a talk entitled: "Differential mobility spectrometry with data independent collision- and electron-induced dissociation mass spectrometry for glycopeptide analysis" in the proteomics session. It was a great opportunity for me to share about my latest research project and to discuss in an interesting way with members of the proteomics community.
Overall, I was pleasantly surprised to see that mass spectrometry is gaining momentum into this international symposium, showing the wide range of uses of this technique.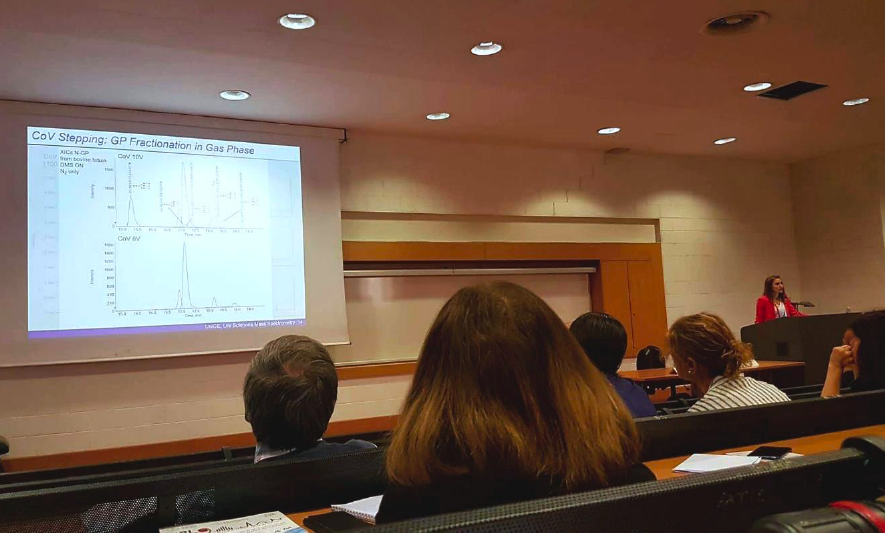 To conclude this report, I would like to thank the DAS board for supporting my participation in the HPLC 2019 Symposium in Milan, as this was my last participation in an international conference during my doctoral thesis, whose end is coming.
Sophie Bravo-Veyrat, 4th year PhD student, research group: Life Sciences Mass Spectrometry (Prof. G. Hopfgartner), School of Chemistry and Biochemistry, Faculty of Science, University of Geneva
Email: This email address is being protected from spambots. You need JavaScript enabled to view it.
October 2019
---
39th International Symposium on Halogenated Persistent Organic Pollutants – Dioxin 2019 Kyoto
Charlotte Driesen, Empa, Dübendorf

The 39th International Symposium on Halogenated Persistent Organic Pollutants, also known as Dioxin Conference, held its annual meeting this year between August 25 and 30, 2019 at the Kyoto International Conference Center in Japan. This international conference gathers researchers from various backgrounds, as well as industry and regulation, to discuss about the latest findings and opinions on persistent organic pollutants (POPs). While the conference was initially focusing on 12 chemical compounds, including dioxin and polychlorinated biphenyls (PCBs), it has extended its spectrum to all kind of brominated, chlorinated and fluorinated POPs. The typical topics of discussion at the Dioxin Conference cover the occurrence and behavior of such substances in the environment, their exposure to and impact on humans and animals, analytical detection methods, as well as risk assessment and waste management. This year's meeting was chaired by Prof. Shinichi Sakai (Kyoto University) and attracted around 750 international delegates, presenting their work in 273 oral presentations and 328 posters. A plenary lecture opened each morning the conference day, resulting in 6 plenary lectures presented by the experts: Dr. David Sherr (Boston University School of Public Health), Prof. Hideshige Takada (Tokyo University of Agriculture and Technology), Prof. Frank Wania (University of Toronto Scarborough), Prof. Adrian Covaci (University of Antwerp), Dr. Ngyuen Minh Hung (Ministry of Natural Resources and Environment, Vietnam) and Prof. Teruhiko Kido (Kanazawa University).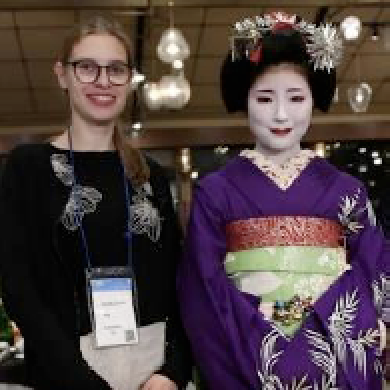 As the conference was located in Japan, the meeting took off with a traditional Kabuki dance as opening ceremony, followed by a week full off scientific exchange. This year, a lot of emphasize was put on per- and polyfluoroalkyl substances (PFAS) and chlorinated paraffins (CPs). In addition, a topic which currently gets a lot of attention in the media, namely microplastics, was discussed for the first time. The presentations showed that microplastics can contain POPs, representing an additional entry pathway into the food chain, as marine organisms can ingest these microparticles. Like this microplastics contribute to the bioaccumulation of POPs and are therefore of environmental and human concern. As the conference was located in Japan with a lot of Asian participants, also regional topics were discussed, especially environmental occurrence and health impact of dioxins in Vietnam. Besides interesting oral and poster presentations, a lot of networking opportunities were given. Not only during lunch and coffee break scientific exchange came up, but also in the evening, receptions and dinners were organized to get to know the fellow researchers and of course to get an insight into the Japanese traditions.
Personal Icing on the Cake
The Swiss Chemical Society's Division of Analytical Sciences awarded me with the DAS Young Analytical Scientist Travel Award 2019, supporting me in my travel to Japan to present two times my work on how the transfer of PCBs can be influenced by the physiological status in growing cattle. Before the Dioxin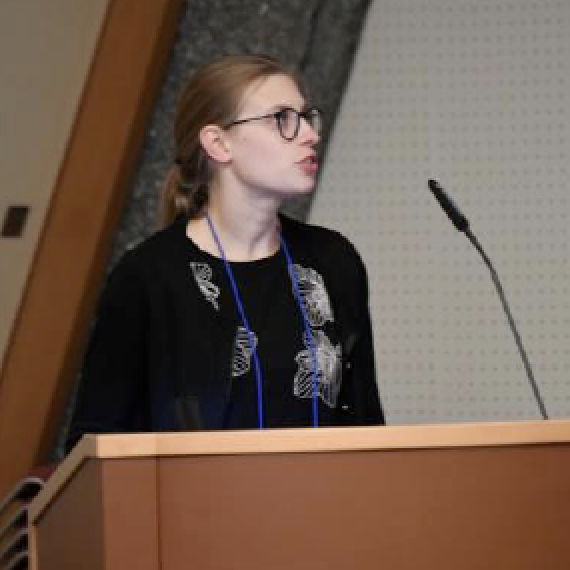 conference even started, I was one of the 33 chosen ones, who got the chance to present their research at the Pre-Dioxin 2019 Student Symposium, held on August 24, 2019. At the conference itself, my oral talk took place on August 29 within the Levels and Trends (Foods and Feeds) Session. Although PCBs belong to the 'old compounds', the European Food Safety Authority (EFSA) again intensified the interest last year. These highly persistent and bioaccumulative compounds were banned worldwide in 2004. However, still 80% of them remain in the environment and the consumption of food of animal origin accounts for 90% of total human exposure to PCBs. In 2018, the EFSA reevaluated the risks to human and animal health from dioxins and PCBs in food and feed, resulting in a recommendation to reduce the tolerable weekly intake by a factor of 7. Such low levels of dioxins and PCBs to be determined in food and feed challenge again the analytical quantification methods for some matrices, as presented at the conference. With my ongoing research, regarding the characterization of the PCB transfer from feed to bovine food products, I hope to further improve and support the chemical risk assessment in feed and food products.
Summarized, I am truly grateful that the Division of Analytical Sciences granted me with this travel award to attend the 39th Dioxin conference. My presentation was well visited within the Levels and Trends (Foods and Feeds) Session. The discussions with the interested listeners widened my knowledge and the divers social program clearly increased my scientific network.
Charlotte Driesen, Empa – Laboratory for Advanced Analytical Technologies, Überlandstrasse 129, CH-8600 Dübendorf
Email: This email address is being protected from spambots. You need JavaScript enabled to view it.
September 2019
---

Astrobiology Science Conference 2019
Report by Andreas Riedo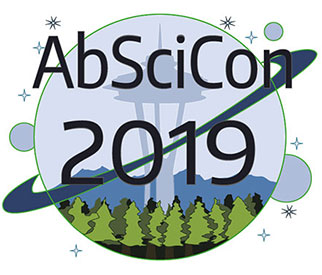 The Astrobiology Science Conference (AbSciCon) is a biyearly international conference devoted to share among researchers the recent scientific findings covering all aspects of life related to space science, ranging from most prominent indicators of life, as we know from Earth, to new instrumentational measurement concepts and capabilities for in situ operation on a planetary surface. AbSciCon is one of the most prestigious science conference in this field and this year more than 900 scientist and engineers from different fields attended the meeting, which was organized in Seattle, US.
The scientific program at AbSciCon was very dense. It included a plenary session of about one hour in the morning, up to six parallel sessions during the day, and poster sessions that lasted until about 9 PM. Furthermore, additional workshops and informative events, such as the presentation of a new international web forum covering all aspects of life related to space science, were held throughout the day. Because of this intense program, a careful planning ahead was a prerequisite to benefit the most the conference. Compared to other meetings covering the same scientific field the AbSciCon made an exceptional good compromise between laboratory/theoretical work and available instrumentation for space exploration missions that allows a better understanding of what can actually be measured in situ on other Solar system objects like Mars.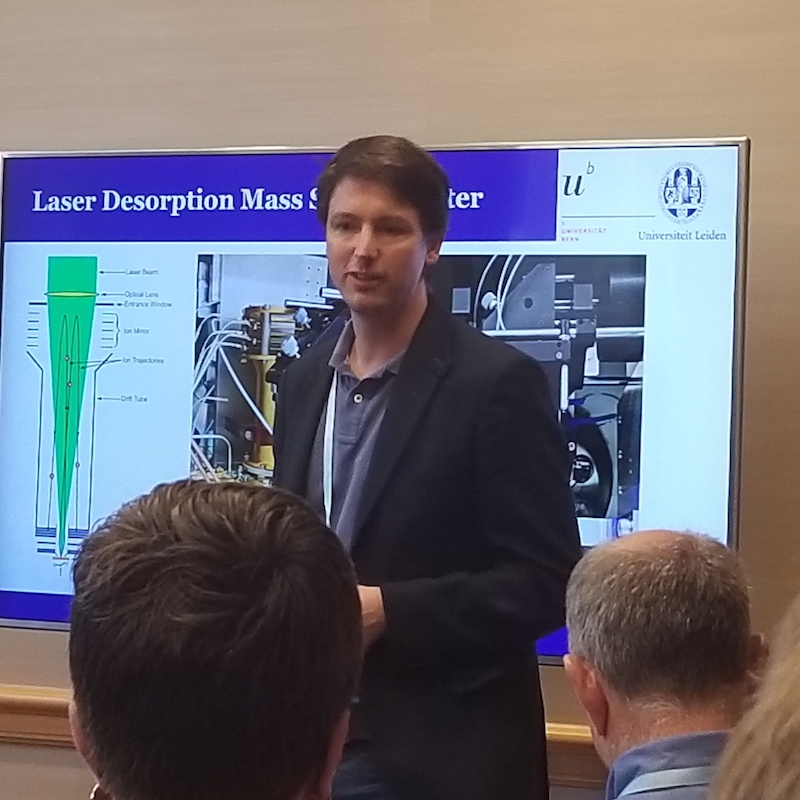 In my research, I focus on the development of new measurement methodologies for the detection of signatures of life using mass spectrometric space prototype systems. At AbSciCon I had the opportunity to present my latest research results by holding an oral presentation. In this presentation, the measurement capabilities of a compact reflectron-type time-of-flight laser ablation ionization mass spectrometer for the detection of single cell microbial life in Martian mudstone analogue material were presented. The detection of signatures of life at the scale of micrometers is extremely challenging, as it requires sensitive measurement techniques providing spatially resolved chemical information of the solid of interest. Life-related elements, such as sulfur, phosphorus, carbon, and other signatures from single microbial life were detected and monitored successfully within the analogue material by using the space prototype system. The message was of high interest to the scientific audience because instrumentation with such measurement capabilities are of high importance for future space exploration missions on e.g. Mars as most of the indicators of life are at the micrometer level or even bellow.
I am very grateful that I received the DAS Young Scientist Travel Award. Not only it allowed me to present my current research, but it also enabled me to strengthen my current scientific network to various groups working at NASA. Indeed, after the conference our group got an invitation from a group at NASA to join a rover field test at the Atacama desert in Chile for 2020/2021 with the system presented, which I personally believe, would not have been happened without attending the conference. Therefore, I highly appreciate the support I got from DAS.
Andreas Riedo
University of Bern Physics Institute
Space Research and Planetary Sciences
This email address is being protected from spambots. You need JavaScript enabled to view it.
July 29, 2019
---