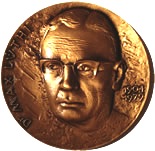 CHF 1'000 and medal in bronze
The Dr. Max Lüthi Award is presented for outstanding degree theses completed in the chemistry department of a Swiss University of Applied Sciences. Nominations must be submitted by the respective chemistry department heads. The prize is awarded annually.

Nomination for 2022
Nominations are invited from the directors of Chemistry Departments of Swiss Universities of Applied Sciences. Self-nominations are not admitted.
A nomination must include:
Brief curriculum vitae/s of the proposed nominee/s (max 2 pages).
A copy of the proposed nominee/s diploma thesis.
A nomination letter.
Not more than two seconding nomination letters.
The documents (language E/D/F) listed under 1-3 should be sent electronically as a single pdf file to  This email address is being protected from spambots. You need JavaScript enabled to view it.  (e.g. nominee name-Lüthi.pdf). Seconding letters should also be submitted electronically.
The deadline for all documents to reach the Swiss Chemical Society is September 30, 2021.

Past Dr. Max Lüthi Award Winners
2021: Mr. Stefan Näf, ZHAW Wädenswil; Ms. Kristina Djordjevic, FHNW Muttenz
2020: Nicola C. Lüdi, ZHAW Wädenswil
2019: Sandra Witschard, ZHAW Wändenswil; Ivan Cornu, HEIA Fribourg
2018: Fabienne Arn, ZHAW Wädenswil
2017: Sonia De Andrade, ZHAW Wädenswil
2016: Flavio Gall, ZHAW Wädenswil
2015: Yvan Mongbanziama, HEIA Fribourg
2014: Yannick Stöferle, ZHAW Wädenswil
2013: Peter Elmiger, ZHAW Wädenswil; Christophe Laporte, HEIA Fribourg
2012: Lucie Sägesser, ZHAW Wädenswil
2011: Michael Brand, ZHAW Wädenswil
2010: Benjamin Otter, FHNW Muttenz
2009: Simon Lang, FHNW Muttenz
2008: Pitt Almendinger (ZHW); Caroline Emery (Haute Ecole Valaisanne and Washington State University); Daniel Mesitschek (Hochschule für Technik und Architektur Freiburg and Hochschule Offenburg)
2007: Ludovic Gremaud (Hochschule für Technik und Architektur Freiburg)
2006: Simon Lobsiger, Stefan Koller
2004: Cédric Clivaz
2003: Benoît Dubray
2002: Juan Luis Naveira; Samuel Rentsch
2001: Christiane Höfelein
2000: Pascal Beer; Thomas Roth
1999: Stefan Furrer; Olivier Vorlet
1998: Thomas L. Mindt
1996: Gottfried Blaser; Michel Houmard; Roger Mazotti
1995: Fabrice Greutert; Alexandre Krattinger; Roland Schürmann
1994: Daniel Gloor; Cyril Jeannet; Sam Derrer
1993: Stefan Lutz; Christoph Wyss
1992: Christian R. Hinderling; Marc E. Pfeifer; David Reichenbach