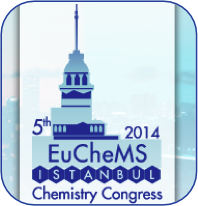 5th EuCheMS Chemistry Congress,
August 31 - September 4, 2014,
WOW Convention Center Instanbul, Turkey
The biannual European Chemistry Congresses (ECC) series has established itself as the pre-eminent scientific event for the European chemical community and their guests from abroad. For the 5th congress in this series, the Turkish Chemical Society has invited EuCheMS to come to Istanbul.
Once again, the ECC will provide an opportunity to demonstrate the strength and the problem-solving capabilities of European chemistry both in academia and industry. Progress in curiosity-driven and applied chemistry is an essential element of innovation as well as for dealing with the formidable challenges of our century. The latest progress in all areas of chemistry will be presented by eminent Plenary and Topic keynote speakers from all over the world, as well as a great number of oral contributions and posters.
Website: http://euchems2014.org
---
David Spichiger, SCS
02.11.2013 / 11.07.2014