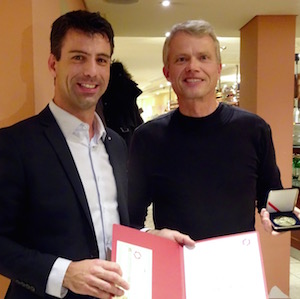 Dr. Francis Mingard, Gymnase de Nyon, got the 2015 Balmer Prize for the development of didactic chemistry experiments and for making them available on the web. David Spichiger, Executive Director of the SCS handed over the prize on the occation of the "Zentralkurs Chemie", organized by the "Verein Schweizerischer Naturwissenschaftslehrer (VSN)", in Schaffhausen on October 15, 2015.
---
Parcours professionnel de Francis Mingard
1987-1993
Assistant à l'UNIL
1993
DoctoratèsSciencse de l'UNIL, avec les félicitations du Jury.
Mention du Prix de la Société Université et Recherche, récompensant la qualité rédactionnelle de travaux universitaire.
Dès 1993
stagiaire puis enseignant au Gymnase de Nyon.
2004-2010
Chef de file de chimie
2006-2007
Transformation des locaux de chimie du Gymnase de Nyon
Dès 2008
Démonstrations pour les maîtres de chimie romands à l'EPFL.
Liens
Site web: www.drbricolus.ch
Youtube: https://www.youtube.com/user/DrBricolus
---

Prix Balmer


2000 francs pour les individus et 2000 francs pour
le département de chimie de I'école et médaille de bronze


Le Prix Balmer récompense les enseignants du secondaire II (gymnase) actifs en Suisse pour les innovations réalisées dans le domaine de I'enseignement de la chimie. L'innovation doit pouvoir être appliquée sans aucun problème dans I'enseignement courant. Les besoins matériels doivent par ailleurs être limités. Le candidat ne peut exiger aucun droit d'auteur en ce qui concerne I'innovation.


Gagnants
2010: Dr. Juraj Lipscher und Roger Deuber, Kantonsschule Baden
2011: Prof. Dr. Günter Baars, Bern
2012: Marc Montangero, Gymnase de Morges (VD)
2013: Dr. Thomas Berset, KantonsschuleMusegg Luzern
2015: Dr. Francis Mingard, Gymnase de Nyon

---
David Spichiger, SCS
19.10.2015