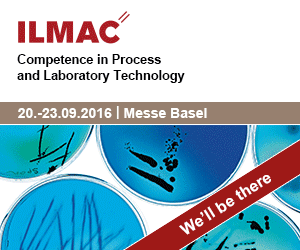 ILMAC, the Swiss fair for Process and Laboratory Technology
20 to 23 September 2016,
Messe Basel, www.ilmac.ch
Matchmaking made easy: whether research and development, piloting, engineering, production or disposal – ILMAC 2016 is the interactive network platform where you can present your process and laboratory technology solutions in a highly efficient manner.
Laboratory technology and process technology are being presented together for the first time instead of in separate sections: at ILMAC 2016, you can showcase your competences and solutions as an overall package. This will ensure you attract greater attention from the growing number of professional visitors who plan and implement their company processes holistically rather than individually
---

Focal Topics
ILMAC 2016 is being staged under the motto "ILMAC 4.0" with two focal topics that you, as an exhibitor, can take up in a targeted manner. The ILMAC Forum will be looking at these topics from different perspectives during the fair. And, at the popular Lunch&Learn events, recognised experts from industry will be having their say. Our communication in the run-up to ILMAC will similarly be highlighting the following central themes.
ILMAC 4.0: Boosting efficiency – an economic necessity
If the chemical and life sciences industry is to meet up to the economic requirements in future too, it will need to boost the efficiency of its processes and continually step up productivity while observing the highest quality standards. This will increase demand for new approaches, including particularly flexible processes and systems, automation solutions for the laboratory and for plant operation, and comprehensive global advice. And comprehensive product and employee safety must be guaranteed at all times.
ILMAC 4.0: Trends in state-of-the-art medicine call for new approaches in R&D and production
The trend in the health sector is towards personalised medicine with the corresponding diagnostic agents and specially-targeted individual therapy with highly potent drugs. The pharmaceutical industry and its suppliers must pay due heed to this situation. The research and production of powerful active ingredients and biopharmaceuticals calls for the appropriate safety precautions and high-precision processes. Present-day laboratories must be configured and equipped with the latest generation of information technology in such a way as to permit interdisciplinary cooperation across all the different boundaries. Producing personalised, highly-active drugs in a suppliable form requires flexible, readily adaptable production lines for small batches and frequent format changes.
---

---
David Spichiger, SCS
27.11.2015