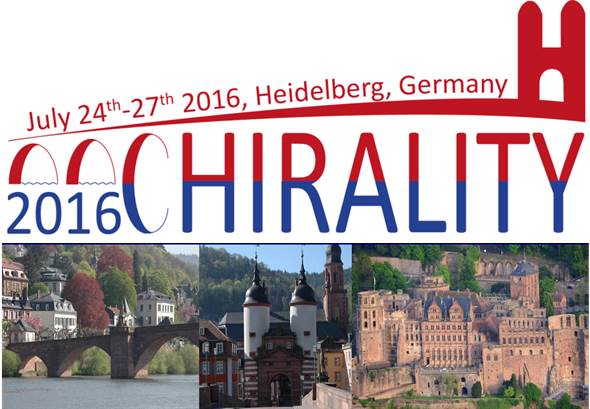 The International Chirality Symposium is the largest, most recognized international conference and exposition devoted to stereochemistry covering all aspects from asymmetric catalysis and synthesis, enantioselective separations and spectroscopy.
We have an exciting scientific program starting with the Chirality Medal Award lecture given by Andreas Pfaltz. We have overall 92 scientific lectures and currently registered attendees from over 40 countries!


The conference includes
Short Courses - available the Sunday preceding the meeting.
Poster Presentation Award - To encourage young researchers, a Poster Presentation Award is planned for excellent poster presentations.
Exhibition/Lunch Seminars - The Symposium will be complemented by an exhibition showing the latest innovations in scientific instruments and by technical seminars on novel
developments in the field of chirality.
Publication of the conference proceedings in Chirality.
Conference banquet at romantic Heidelberg Castle. Dinner will be served created by Michelin-Star Chef Martin Scharff.
The program will be online in the next days on the Chirality homepage under the link Scientific Program at www.chirality2016.com

REGISTRATION
Please register online under the link to Registration at www.chirality2016.com


POSTER ABSTRACTS
June 15 is the deadline for submission of a poster presentation.
The abstract template is available on the conference website.
Once completed, abstracts as rtf or doc-file should be sent to

HOTEL RESERVATION
We would like to remind you that the deadline for discounted hotel rates at the Marriott Hotel
Heidelberg ends on May 24th 2016.
To be sure you are able to stay at the Marriott Hotel, you need to make your reservation online
as soon as possible.
There will be the Formula 1 Car Race event on the following weekend in Hockenheim, which is
close to Heidelberg and attracts about 100 000 visitors. Some Formula 1 teams will stay at the
Marriott Hotel and other hotels in Heidelberg. Therefore we urge you to make reservations as
soon as possible to get affordable rates.
Please make your hotel reservation online under the link to Accommodation & Getting around
at www.chirality2016.com

We encourage you to consider attending and presenting your recent work at Chirality 2016.
We would also appreciate you bringing the meeting to the attention of others working in the
field of stereochemistry.
Sincerely yours,
Oliver Trapp
Günter Helmchen
Volker Schurig
Conference Chairs
More information: www.chirality2016.com
---
David Spichiger, SCS
23.05.2016