Elements 113, 115, 117, and 118 are now formally named nihonium (Nh), moscovium (Mc), tennessine (Ts), and oganesson (Og)
Research Triangle Park, NC: On 28 November 2016, the International Union of Pure and Applied Chemistry (IUPAC) approved the name and symbols for four elements: nihonium (Nh), moscovium (Mc), tennessine (Ts), and oganesson (Og), respectively for element 113, 115, 117, and 118.
Following a 5-month period of public review, the names earlier proposed by the discoverers have been approved by the IUPAC Bureau. The following names and symbols are officially assigned:
Nihonium and symbol Nh, for the element 113,
Moscovium and symbol Mc, for the element 115,
Tennessine and symbol Ts, for the element 117, and
Oganesson and symbol Og, for the element 118.
In concordance with and following the earlier reports that the claims for discovery of these elements have been fulfilled [1,2], the discoverers have been invited to propose names. Keeping with tradition, the newly discovered elements have been named after a place or geographical region, or a scientist. The ending of the names also reflects and maintains historical and chemical consistency: "-ium" for elements 113 and 115 and as for all new elements of groups 1 to 16, "-ine" for element 117 and belonging to group 17 and "-on" for element 118 element belonging to group 18.[3] The recommendations will be published in the IUPAC journal Pure and Applied Chemistry* (http://dx.doi.org/10.1515/pac-2016-0501).
Sources:
1) http://www.iupac.org/iupac-announces-the-names-of-the-elements-113-115-117-and-118/;
Chem. Int. 2017, 39(1), 20–21; Pure Appl. Chem. 2016, 88(12), 1225–1229.
2) Pure Appl. Chem. 2016, 88(4), 401–405.
---
Bezeichnungen der Elemente im deutschsprachigen Raum
Die Expertenrunde (Mitglieder s. Tabelle) zur deutschen Nomenklatur der neuen Elemente 113, 115, 117 und 118 einschließlich der Vertreter der deutschen, österreichischen und schweizerischen IUPAC-Mitgliedsorganisationen tagte auf Einladung der GDCh am 10. April 2017 in der GDCh-Geschäftsstelle in Frankfurt am Main. Die Sitzungsleitung hatte Dr. Karl-Heinz Hellwich, Präsident der IUPAC-Division "Chemical Nomenclature and Structure Representation", inne.
Gab es bei Tennessine bereits vor der Annahme durch die IUPAC kontroverse Diskussionen über den Namen und vor allem das Elementsymbol (Ts) selbst, stellte sich nun die Frage, wie diese Elemente in der deutschen Sprache heißen sollten. Bezüglich der Elemente Nihonium (Nh), Moscovium (Mc) und Oganesson (Og) bestand dabei kein Problem. Diese werden auf Empfehlung der Expertenrunde unverändert ins Deutsche übernommen.
Im Verlauf der Diskussion einigten sich die Sitzungsteilnehmer auf den deutschen Namen Tenness, u. a. aufgrund der folgenden Überlegungen:
Tenness folgt der bisherigen Logik der Halogennamen im Deutschen (vgl. Fluorine -> Fluor, Chlorine -> Chlor usw.) und vermeidet somit die Einführung zusätzlicher Ausnahmen im Periodensystem;
Chemikerinnen und Chemiker werden (in erster Linie theoretisch) mit Tenness in Form seiner Verbindungen (z. B. Interhalogenverbindungen) zu tun haben. Die entsprechenden Verbindungsnamen klingen plausibel.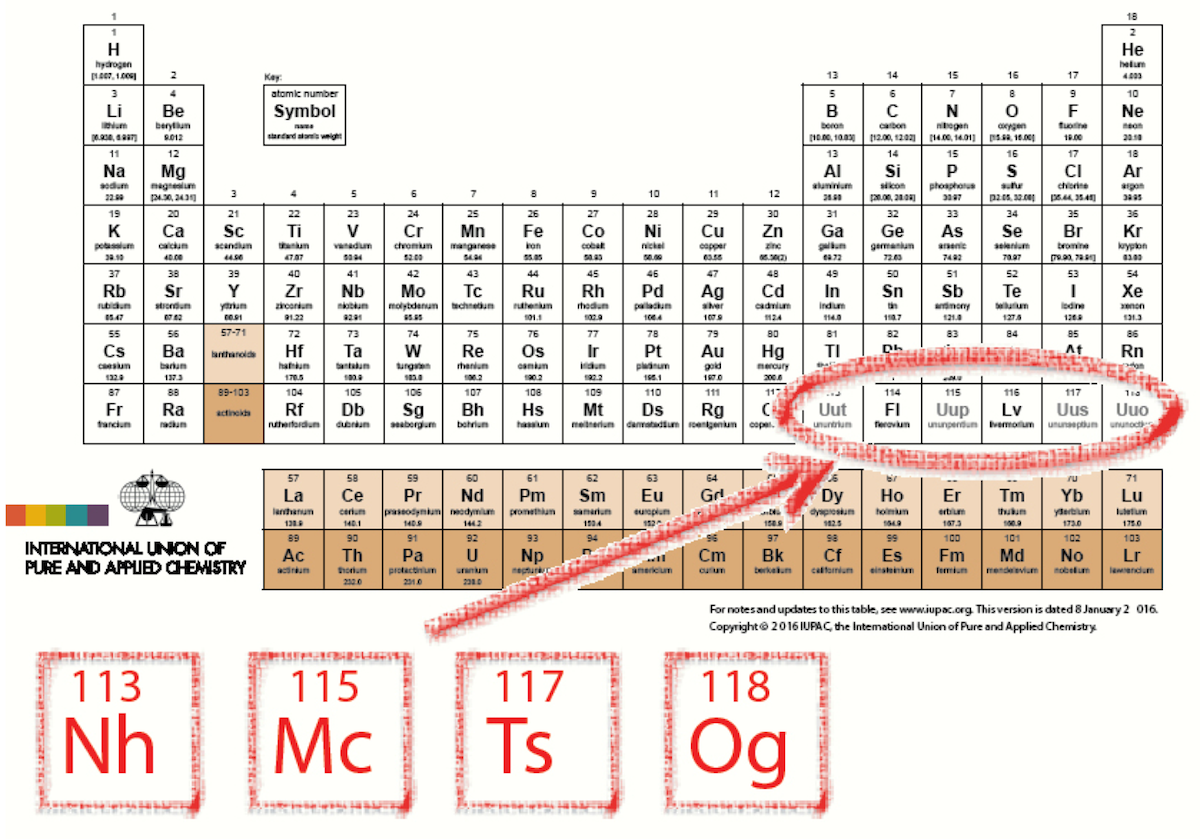 Das Elementsymbol Ts für Tenness wird trotz der Verwechselungsmöglichkeit mit der empfohlenen Abkürzung für die Tosyl-Gruppe (Ts) bestätigt. In der chemischen Literatur sollte sich der jeweilige Zusammenhang richtig ergeben. Die alternativ denkbaren Elementsymbole T, Te, Ti und Tn sind bereits vergeben, und zwar für Tritium, Tellur, Titan bzw. Thoron (historisch für 220Rn).
Die Expertenrunde beschloss daher für das Element 117 den deutschen Namen Tenness (abgeleitet vom Namen des amerikanischen Bundesstaates Tennessee, daher Betonung auf der ersten Silbe, vgl. "Tennis") mit dem Elementsymbol Ts.
Mitglieder der D-A-Ch-Expertenrunde
Dr. Markus Becker, Deutsche Wikipedia Redaktion Chemie
Dr. Karl-Heinz Hellwich, Beilstein-Institut, IUPAC (Präsident der Nomenklatur-Division)
Prof. Dr. Evamarie Hey-Hawkins, Universität Leipzig; GDCh-Vorstand
Dr. Manfred Köhl, Georg Thieme Verlag; RÖMPP Prof. Dr. Florian Kraus, Universität Marburg
Prof. Dr. Ulrich Schubert, TU Wien; Österreichische Akademie der Wissenschaften ÖAW; (GÖCH)
Prof. Dr Jürgen Stohner, ZHAW Zürich; Sekretär IUPAC Interdivisional Committee on Terminology, Nomenclature and Symbols (ICTNS); Chair Commission I.1 (IUPAC Green Book); SCG
Dr. Elisabeth Weber, Wiley-VCH; Angewandte Chemie
Dr. Hans-Georg Weinig, GDCh; Deutscher Zentralausschuss für Chemie DZfCh
---
David Spichiger, Jürgen Stohner, SCS
17.05.2017