Kumar Organic Products Ltd, company, the leading provider of high-performance specialty chemicals manufacturer is pleased to announce the opening of it's yet another new branch in Basel city Switzerland to add to its extending global sales and to meet the market demands. New office expansion enables Kumar Organic Products to provide better services and customer support in Personal Care, Cosmetics and Pharma market in Europe
In addition to the existing Branch office in Luton, Bedfordshire UK, the launch of a local team, responsible for all product distribution and customer technical support, is designed to bring the Kumar's products closer to its customers and give them regionally based Kumar's contacts.
The decision to assume distribution directly was a logical step in our international market expansion strategy. In order to be more responsive to the new and diverse needs of our customers who have always been at the centre of company's goals, we intend to complement our range of products with highly professional and specialized technical support. With the strong leadership in Antibacterial & Hair care segment, company has taken another leap in launching products under preservative and emollients segment of Green Technology with REACH regulations complied. Company is focusing on greater cover for the Personal care actives markets in Eastern Europe, Baltic Nations and CIS countries as well.
Basel area is also affluent with Cosmetic & Pharma giants (Fortune 500 companies). We expect full support from our partners so that we can make it great success. To strenghten the link to Switherland, Kumar Organic became a corporate member of the Swiss Chemical Society for at least the next three years.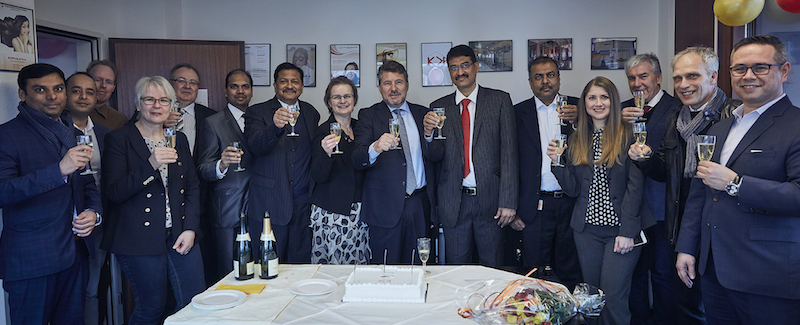 Kumar Organic Products Limited
Kumar Organic Products is one of the fast growing research based manufacturers and supplier of cosmetic active ingredients, specialty chemicals headquartered in Bangalore, Karnataka, India and has successfully carved its niche as, the strategic partner to the manufacturers of the cosmetics industries across globe. Established in the year 1993, the company with the focus of achieving its objective and continuous growth has grown to employ about 550 dedicated employees with four manufacturing sites in India. The company subsidiary offices are located in UK, Europe, North America, Singapore and covering various other countries by company's global distributor partners. Company is accredited with USFDA, CEP, MHRA - UK, COFEPRIS, ISO 9001 & 14001 certifications.
For more information, visit www.kumarorganic.net
MediaContact
B. N. Kawari – General Manager (International Sales)
Kumar Organic Products Europe AG Switzerland
---
David Spichiger, SCS
26.02.2018