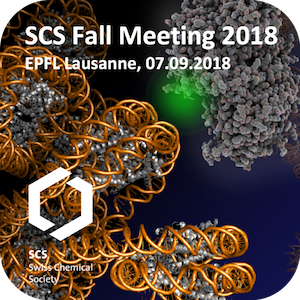 September 7, 2018, EPFL Lausanne
https://scg.ch/fallmeeting/2018
The detailed program is online available for registered participants!
As SCS member, registration is free of charge and after the login you can
a) browse through the session programs incl. links to the abstracts and/or
b) download all talk or poster abstracts per session
Don't forget to bring your SCS member card with you when attending the Fall Meeting on September 7!


---
Program Overview, September 7, 2018
09.00
Registration / Welcome Coffee
CE
09.45
Welcome and conference opening
Prof. Sandrine Gerber, Chair SCS Fall Meeting
Prof. Lyndon Emsley, ISIC Director, EPFL Lausanne
CE 6
09.50
Sandmeyer Award Lecture 2018
Raymonde Fonné-Pfister, Alain De Mesmaeker, Syngenta Crop Protection AG
«A new generation of agrochemicals: design, synthesis and biological evaluation of stigolactone- and strigolactam derivatives for potential crop enhancement applications in modern agriculture»
CE 6
10.20
SISF-SCS Distinguished Investigator Award Lecture 2018
Paul W. Manley, Novartis Pharmaceuticals AG, Basel
«Synthesis and Characterisation of Some Metabolites of Anti-Leukemia Drugs»
CE 6
10.50
Short break
11.00
Morning Parallel Session
- Analytical Sciences (AS)
- Catalysis Science & Engineering (CE)
- Computational Chemistry (CC)
- Inorganic & Coordination Chemistry (IC)
- Medicinal Chemistry & Chemical Biology (MC)
- Organic Chemistry (OC)
- Physical Chemistry (PC)
- Polymers, Colloids & Interfaces (PCI)

CE 5
CE 2
CE 105
CE 6
CE 3
CE 1
CE 4
BS 160
12.45
Lunch and Poster Session
Commercial Exhibition
CE / BS
13.15
General Assembly of the Swiss Young Chemists' Association (SYCA)
CE 5
15.00
Afternoon Parallel Session
- Analytical Sciences (AS)
- Catalysis Science & Engineering (CE)
- Computational Chemistry (CC)
- Inorganic & Coordination Chemistry (IC)
- Medicinal Chemistry & Chemical Biology (MC)
- Organic Chemistry (OC)
- Physical Chemistry (PC)
- Polymers, Colloids & Interfaces (PCI)

CE 5
CE 2
CE 105
CE 6
CE 3
CE 1
CE 4
BS 160
15.30
Exhibitor Apéro
near SPO
16.45
Break and coffee / refreshments
CE
17.00
SISF-SCS Senior Industrial Science Award Lecture 2018
Clemens Lamberth, Syngenta Crop Protection AG
«Episodes from the Continuous Search for Solutions against Downy Mildew Diseases»
CE 6
17.30
Paracelsus Award Lecture 2018
Prof. Ruedi Aebersold, ETH Zurich
«Mass spectrometric exploration of the biochemical basis of living systems»
CE 6
18.15
Best Oral Presentation Awards (sponsored by Metrohm)
The prizes are handed over by Patrick Hunziker, Vice-President and Head Development, Metrohm Herisau
CE 6
18.15
Best Poster Presentation Awards (sponsored by DSM)
The prizes are handed over by Thomas Netscher and Werner Bonrath, Senior Scientists at DSM Nutritional Products
CE 6
18.45
End of the conference
---
David Spichiger, SCS
15.08.2018