Continuous monitoring of vital parameters from a person's body has the potential to provide crucial health information to them or their healthcare provider in a timely fashion. Wearable, flexible electrochemical sensors, for instance integrated on the epidermis, can be used to measure non-invasively metabolites and electrolytes for various biomedical applications. Dr. Joseph Wang, Distinguished Professor and Director of the UCSD Center of Wearable Sensors has been invited to give a plenary lecture at the 2ndSwiss Symposium in Point-of-Care Diagnostic in Chur on 18thof October 2018. On the eve of this Symposium Prof. Wang has been interviewed by the conference chairs, Dr. Dieter Ulrich (CSEM Landquart) and Prof. Marc E. Pfeifer (HES-SO Valais, School of Engineering).
Symposium website: www.pocdx.ch
---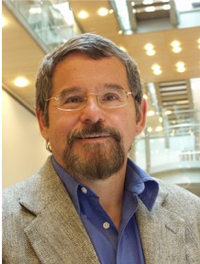 Dear Professor Wang, in the future are we all going to wear clothes with sensors to monitor vital signs and have bracelets or sensing tattoos to measure the concentration of biomarkers?
While this is also my vision, these innovative devices must provide clinically relevant information. Hence, initially, I expect fitness applications of these gadgets, although there are tremendous efforts toward integrating similar glucose monitors.
Your plenary lecture at the 2ndSwiss Symposium in Point-of-Care Diagnostics in Chur is entitled "Wearable Electrochemical Sensors: Toward Labs on the Skin". Can you please give us already an outlook of what the symposium participants will be hearing from you?
Yes, I will describe a variety of wearable non-invasive (or minimally-invasive) platforms for electrochemical monitoring of biomarkers in sweat, ISF, saliva and more. Our goal is to go beyond monitoring mobility or vital signs by providing real-time biochemical information.
Glucose sensing for diabetes management – a huge market - is largely based on electrochemical methods. What are the advantages and challenges associated with electrochemical sensors when it comes to detecting and quantifying molecules on or through the skin?
Indeed, electrochemical systems continue to play a leading role in the monitoring of glucose, e.g. the continuous glucose monitor of our San Diego partner Dexcom Inc. Considering this huge market, I will discuss recent effort toward skin-worn sweat or ISF based glucose sensing platforms.
You are an advisor for several San Diego-based companies that are developing a mobile technology connected diagnostic platform for use at home. Is increasing access to meaningful data going to improve health and well-being of people?
Mobile-health systems used at home are expected to improve our quality of life, beyond the management of diabetes. Remote home-based elderly care is one such direction being widely explored by various companies.
There are sometimes concerns expressed regarding quality and analytical performance issues of point-of-care diagnostic devices, especially when compared with clinical analyzers in a central laboratory. Are future sensors and wearable devices going to perform equally well? Where is a need for further improvements on a technological level?
Indeed, it is hard to shrink sophisticated clinical analyzers onto the skin or the oral cavity. Nevertheless, significant progress is being made toward the creation of soft epidermal microfluidic platforms for performing the necessary sample manipulations on the skin.
Are nano-robots / -machines one day going to replace in vitro diagnostics (IVD) or even surgery?
Yes, functionalizing nanorobots with proper receptor can lead to new diagnostic tools, and new capsules explore these capabilities. Eventually, in-vivo microrobots will assist surgical procedures, and nano-grippers are already being developed for tasks such as biopsy.
---
CSEM SA
Bahnhofstr. 1 | CH-7302 Landquart
www.csem.ch