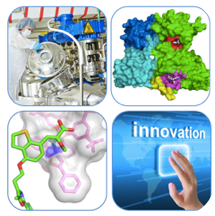 2nd Swiss Industrial Chemistry Symposium 2018 (SICS)
University of Basel, Department of Chemistry
St. Johanns-Ring 19, 4056 Basel
The SICS is a, one-day symposium with lectures and short talks of industrial chemists working in R&D in Switzerland. The symposium offers a unique platform for industrial scientists, working in research and process research, to present their latest results, to interact with each other and to network with professors, PhD students and other scientific staff of Swiss universities. An extended poster session with presentations from industry (20%) and academy (80%) will stimulate the interaction.
---

Program
08.30
Welcome coffee, registration

Morning Session

Chairs: Jérôme Cassayre, Syngenta and Thomas Heinz, Novartis
08.55
Opening, welcome
Dr. Remo Gamboni, F. Hoffmann-La Roche
09.00
Dr. Silvio Roggo, Senior Investigator, Natural Products Chemistry, Novartis AG
«Reengineering and Repurposing of Cyclosporins»
09.30
Dr. Marc Thommen, Head CMC, Polyphor Ltd, Allschwil, and Dr. Stefan Eissler, Bachem AG, Bubendorf
«Murepavadin - A novel antibiotic overcoming bacterial resistance and its challenging manufacture on large scale»
10.00
Dr. Michael Levis, Siegfried AG
«From Lab to Plant – achieving better process performance on scale using new lab technologies and data management tools»
10.30
Coffee Break
11.00
Dr. Christian Chapuis, Firmenich SA
«Synthesis of Methyl Jasmonate and Analogues»
11.30
4x Short Talks à 8min


Dr. Andreas Hafner

, BASF Schweiz AG, Basel

«

Vision "24h daylight illumination in buildings"

»

Dr. Andreas Gloger, Philochem AG
«DNA-encoded chemical libraries»

Dr. Christof Aellig, LONZA, Visp
«Lonza's advances in flow chemistry»

Dr. Paul Hebeisen, PIQUR Therapeutics AG, Basel
«What a Difference a Dalton Makes. From the University Lab to PIQUR»

Lunch and Poster Sessions

12.10
Lunch buffet
12.45
Poster sessions A (2nd and 3rd floor) and coffee
13.30
Poster sessions B (2nd and 3rd floor) and coffee

Afternoon Session

Chair: Olivier Baudoin, University of Basel

14.20
4x Short Talks à 8min


Dr. Craig Harris, Head of Research Synthesis, Nestlé Skin Health/ Galderma S.A., Lausanne
«Design and Synthesis of Novel Peptidomimetic Caspase I Inhibitors as a Novel Topical Treatment for Acne»

Dr. Werner Bonrath, DSM Nutritional Products
«Future of Catalysis in Fine Chemical Industry»

Dr. Thomas Fessard, Spirochem AG
«New trends and tactics in bioisosteric switch strategies»

Dr. Vit Lellek, Cilag/ Johnson & Johnson
«From Process Development of a potent Cathepsin S-Inhibitor to efficient Syntheses of Pyrazoles»

15.00
Dr. Thomas Woltering and Jean-Michel Adam, F. Hoffmann-La Roche AG, Basel
«BACE1 Inhibitor - from 12mg to 7kg: A Great Mix of Challenges, "Surprises" & Achievements»
15.30
Dr. Christoph Boss, Idorsia Pharmaceuticals Ltd., Allschwil
«Discovery and Characterization of ACT-541468, an Orally Available, Brain Penetrant Dual Orexin Receptor Antagonist with Potent Sleep Promoting Properties»
16.00
Coffee Break
16.30
Dr. Clemens Lamberth, Syngenta Crop Protection AG, Stein (AG)
«How Rarely Used Reactions enabled the Synthesis of Highly Active Fungicides»
17.00
Dr. Ralf Dümpelmann, BaselArea.Swiss: promoting and enabling innovation
17.05
Award ceremony for the best poster presentation
3x5' presentations of winners
17.30
Concluding Remarks: Dr. Alain De Mesmaeker, Syngenta / SCS President
Aperitif and Networking; meet the exhibitors and BaselArea.Swiss
---
Free admission for SCS members. However, online registration until October 12 is mandatory. CHF 50.00 for non-SCS members.