From Wed, 25.09.2019 to Fri, 27.09.19, during the 2019 ILMAC, the Swiss Chemical Society and SusChem Switzerland organized the first Swiss SusChem Days. Three lunch symposia, two workshops one session with discussion roundtables and an evening session provided a fantastic program on the topic of green & sustainable chemistry. More than 400 participants visited one of the sessions and complimented the high value input the got. Experts from industry and academy gave lectures and answered questions during the networking events or the panel discussion.
Details about the event and the program
---
Webcast: SusChem Evening Session, Thu, 26.09.19
Prof. John Warner, Warner Babcock Institute for Green Chemistry (USA)
«Green Chemistry: The Molecular Mechanisms of Sustainability and Innovation»
Dr. Rafael Cayuela, Dow Chemicals
«The Chemical Industry under the 4th Industrial Revolution»
Panel Discussion
John Warner, Warner Babcock Institute for Green Chemistry
Rafael Cayuela, Dow Chemicals
Nicoletta Piccolrovazzi, Dow Olympics
Martin Vollmer, Clariant
Juan Gonzalez-Valero, Syngenta
James Clark, University of York and entrepreneur
Moderator: Bérangère Magarinos-Ruchat, Global Head Sustanabillity, Firmenich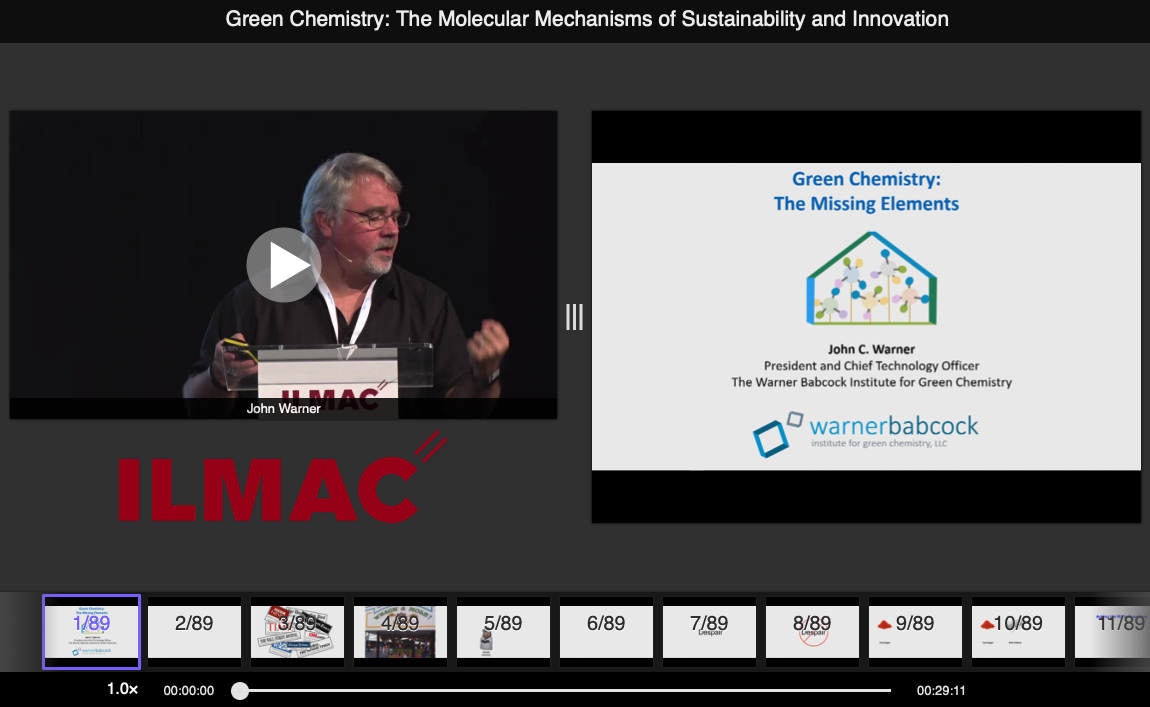 ---
Webcasts: SusChem Lunch Symposia, Wed, 25.09.19 and Thu, 26.09.19
These webcasts are for SCS members and ILMAC participants only. Please login to your SCS account to get the link to the two lunch session webcasts.
Lunch Symposium, Wed, 25.09.2019
Prof. John Warner, Warner Babcock Institute for Green Chemistry (USA)
«Green Chemistry: The Molecular Mechanisms of Sustainability and Innovation»
Prof. Matthias Beller, University of Rostock (GER)
«Precious Catalysis with Non-Noble Metal Catalysts»
Prof. Rebecca Buller, ZHAW Wädenswil
«Harnessing Nature: Biocatalysis for Industrial Applications»
Prof. Jeremy Luterbacher, EPFL Lausanne
«Renewable Chemicals from Plants»
Dr. Benjamin Martin, Novartis Pharma AG
«Continuous Manufacturing as an Enabling Tool with Green Credentials in Early-Phase Pharmaceutical Chemistry»
Lunch Symposium, Thu, 26.09.2019
Prof. James Clark, University of York (UK)
«Setting the Scene, the 12 Principles of G&SC»
Dr. Georg Wuitschik, F. Hoffmann- La Roche AG
«ChemPager: Greener Processes through Data Analysis»
Dr. Martin Vollmer, Clariant
«Sustainability fuels Innovation»
Dr. Nicoletta Piccolrovazzi, Dow Olympics
«Sustainability Application concepts»
Hazal Ustundag George / Dr. Gilles Oddon, Firmenich SA
«Firmenich EcoScent Compass™: First Holistic Fragrance Sustainability Measurement»
Link to the lunch Symposia webcasts (SCS member login)
---
David Spichiger, SCS
30.09.2019