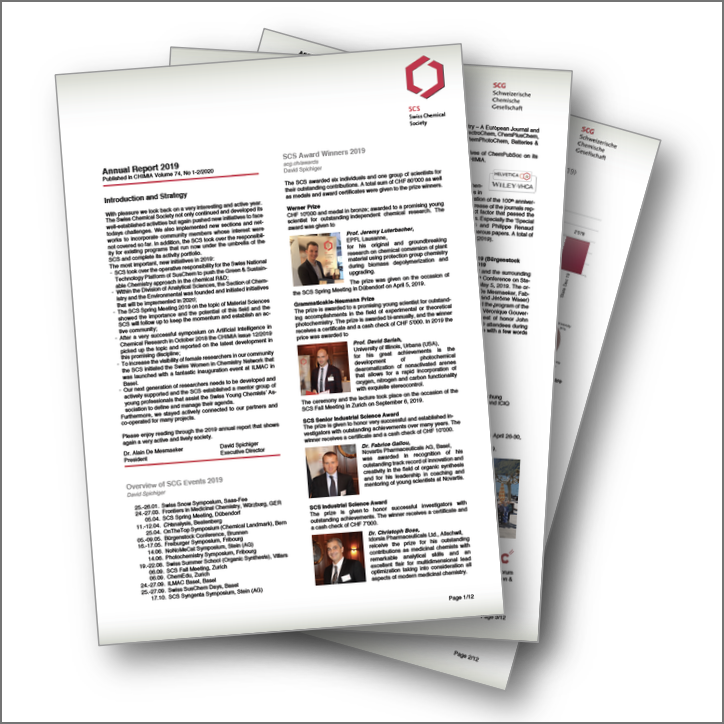 With pleasure we look back on a very interesting and active year. The Swiss Chemical Society not only continued and developed its well-established activities but again pushed new initiatives to face todays challenges. We also implemented new sections and networks to incorporate community members whose interest were not covered so far. In addition, the SCS took over the responsibility for existing programs that run now under the umbrella of the SCS and complete its activity portfolio.
The most important, new initiatives in 2019:
SCS took over the operative responsibility for the Swiss National Technology Platform of SusChem to push the Green & Sustainable Chemistry approach in the chemical R&D;
Within the Division of Analytical Sciences, the Section of Chemistry and the Environmental was founded and initiated initiatives that will be implemented in 2020;
The SCS Spring Meeting 2019 on the topic of Material Sciences showed the importance and the potential of this field and the SCS will follow up to keep the momentum and establish an active community;
After a very successful symposium on Artificial Intelligence in Chemical Research in October 2018 the CHIMIA issue 12/2019 picked up the topic and reported on the latest development in this promising discipline;
To increase the visibility of female researchers in our community the SCS initiated the Swiss Women in Chemistry Network that was launched with a fantastic inauguration event at ILMAC in Basel.
Our next generation of researchers needs to be developed and actively supported and the SCS established a mentor group of young professionals that assist the Swiss Young Chemists' Association to define and manage their agenda.
Furthermore, we stayed actively connected to our partners and co-operated for many projects. 
Please enjoy reading through the 2019 annual report that shows again a very active and lively society.
Dr. Alain De Mesmaeker              David Spichiger
President                                     Executive Director
The SCS Annual Report is also published in CHIMIA Volume 74, No 1-2/2020
---
David Spichiger, SCS
27.01.2020