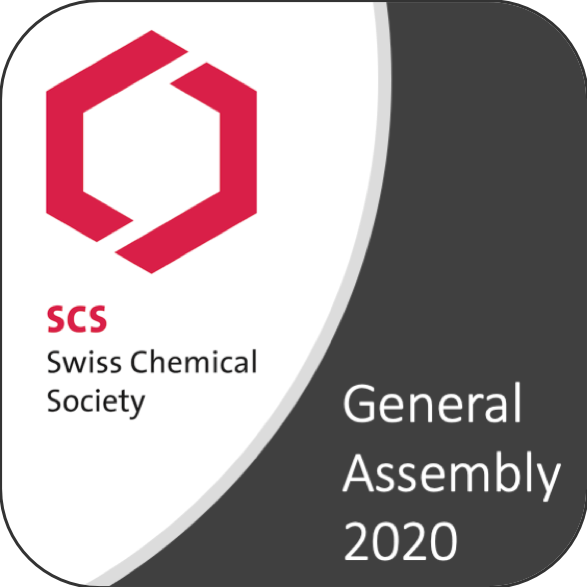 The SCS General Assembly 2020 that was initially planed on April 3, 2020 at FHNW Muttenz, had to be postponed due to the COVID-19 restrictions. It will now take place as a video conference on June 24, 2020, 16.30h - 17.00h.
You can participate via Zoom video conference platform, meeting-ID: 990 262 974, Password: 031034. Please note that there will be a control of who is joining and we will block non-SCS members accordingly. In 2021 we hopefully can go back to normal and organize the General Assembly again as part of the SCS Spring Meeting at FHNW Muttenz on April 15, 2021. 
---
The Board of Directors invites all members of the Swiss Chemical Society and the delegates of its associated societies to join the 30th General Assembly:
30th General Assembly of the Swiss Chemical Society
June 24, 2020, 16.30–17.00h, Online meeting (Zoom).
Agenda
Welcome and approval of the agenda
Election of the vote counters
Minutes of the 29th General Assembly from April 5, 2019 in Dübendorf (published in CHIMIA 5/2019, A430)
Annual report 2019 (published on the SCS website and in CHIMIA 1-2/2020)
Financial statement 2019 incl. audit report (send a mail to

to get a copy of the financial statement and the audit report upfront).
Discharge the Board
Elections
Update of the SCS Bylaws 
News and strategic projects
Outlook 2020/2021
Varia
Motions to the assembly can be submitted until June 22, 2020 to .
Swiss Chemical Society (SCS)
Dr. Alain De Mesmaeker, President
David Spichiger, Executive Director
Note: the invitation to the 2020 GA was also published in CHIMIA 4/2020 and CHIMIA 5/2020
---
David Spichiger, SCS
19.06.2020