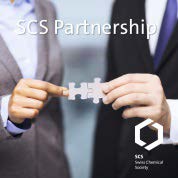 In 2020 the SCS implemented the SCS Partnership program as a new strategic tool to strengthen the collaboration with industrial partners and to align the Society's activities to the community's requirements. Starting with 13 partner companies in spring 2020 the program includes 19 partner as of December 2021.
Please contact the SCS Head Office if you are interested in a SCS Partnership as well (CHF 3'000 p.a.).


---
Recent SCS Parnerships Assignments
In the past two months three companies signed the partnership agreement and joined the program. We are happy an proud to welcome the following companies:
- Chemspeed Technologies AG, Füllinsdorf: gamification of R&D
- SpiroChem AG, Basel: Get inspired. Innovate.
- Büchi AG, Uster: Büchiglasuster, Pilot Plant & Reactor Systems
SCS Partnership Program
Make the difference as an Institutional Partner through
> Active involvement in the strategic alignment of the society (board-, committee- and jury-membership)
> Becoming Industrial Science Award Program Stakeholders (former SISF Program)
> VIP Guests/Delegates at the Swiss Chemistry Science Night
… and also enjoying the benefits of a "classical" corporate membership:
> Free CHIMIA subscription, publication of Company Reports in CHIMIA, advertising at reduced rates, and logo presence on SCS documents (print, digital)
SCS Partnerships 2021/22.

---
David Spichiger, SCS
21.12.2021