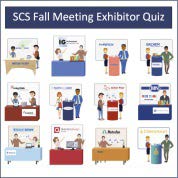 The Swiss Chemical Society is proud to announce the winners of the Exhibition Quiz of the SCS Fall Meeting 2020. The prize is endowed with CHF 100 for the winner and 2x CHF 50 for the runner ups. The 2020 prizes go to:
Dimitri Hürlimann, Winner (University of Basel)
Joanna Heruska, Runner-up (Eawag)
Rafael Lombardi, Runner-up (University of Basel)
We like to thank all exhibitors and all other supporters who made it possible for us to organize the annual SCS Fall Meeting and to provide an exiting platform for the Swiss Chemical Community to meet and exchange.
---
Céline Wittwer, SCS
25.09.2020