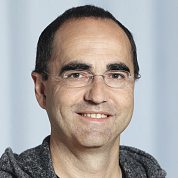 The European Academy of Sciences has elected Prof. Jean-Christophe Leroux, Professor at the Institute of Pharmaceutical Sciences at ETH Zurich, as a member.
The European Academy of Sciences was founded in 2003 and aims to promote fundamental research and excellence in science and technology.
Prof. Leroux was born in Montreal (Canada) in 1969. He received his B.Pharm. from the University of Montreal, followed by a Ph.D. in Pharmaceutical Sciences (1995) from the University of Geneva (Switzerland). From 1996 to 1997 he completed a postdoctoral training at the University of California, San Francisco and then joined the University of Montreal as an assistant professor. He was promoted to the ranks of associate professor in 2002 and full professor in 2007. His research interests include the design of novel biopolymers, stimuli-responsive drug delivery systems (liposomes, micelles and gels) and the targeting of anticancer drugs.
Source: chab.ethz.ch
---
Céline Wittwer, SCS
25.07.2020