The European Chemical Society (EuChemS) invites their members to the EuChemS Awards Information Session, the last EuChemS webinar this year on: 
Tuesday 24 November, 10:00 CET.
online
During the event, they will present nomination and evaluation processes for EuChemS Awards, answer your questions, and share evaluators' experience as well as views of the decision-makers.
*Please note that registration for this event is mandatory.
Program
During the webinar, each award will first be explained by a video of about 8 minutes, followed by an interactive session, where our guests will be answering your questions and sharing their views and experience.
The EuChemS awards will be presented in the following order:
European Chemistry Gold Medal Award
EuChemS Lecture Award
EuChemS Award for Service
EuChemS Historical Landmarks Award
European Young Chemists' Award (EYCA)
The videos will be featured by L. Jousset and J. Lazić (EuChemS Science Communication and Policy Officers) and A. M. Rodríguez (EYCN Chair).
Our guests for interactive sessions are P. Goya (EuChemS President), B. Van Tiggelen (Chair of the EuChemS Historical Landmark Selection Committee) and  A. Agostiano (Chair of the European Young Chemists Award Committee).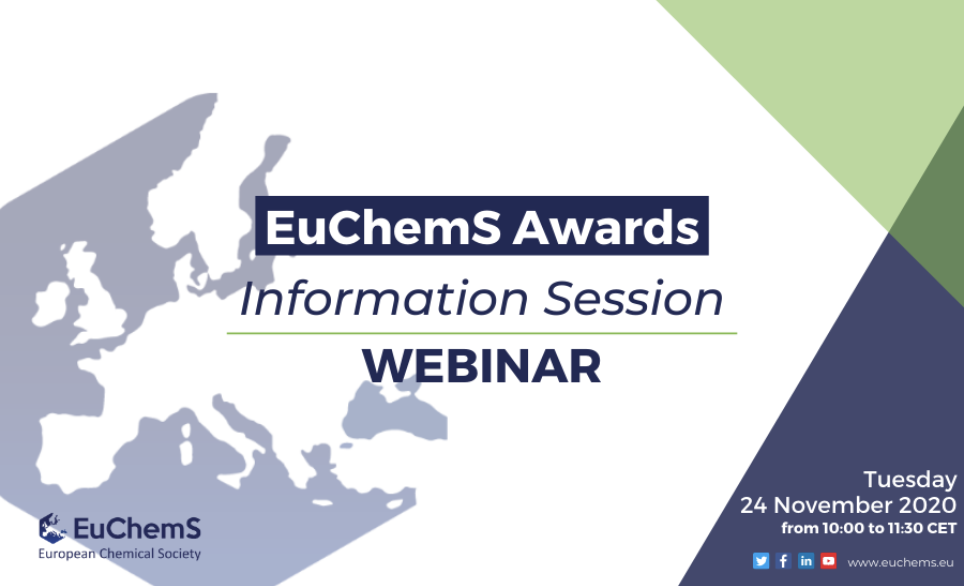 ---
Céline Wittwer, SCS
17.11.2020