ChemPlusChem is delighted to invite you for its virtual symposium on Amazing Phosphorus. This virtual event will be moderated by Evamarie Hey-Hawkins (Leipzig University), Christian Müller (Freie Universität Berlin) and hosted by ChemPlusChem Editor-in-Chief Jonathan Faiz.
When: Tuesday, September 21 at 3pm (CEST)
We hope you will enjoy four exciting presentations and interactive Q&A sessions that span from fundamental research to applications in catalysis, materials, medicine, and sustainability:
Matthias Beller (Leibniz-Institut für Katalyse Rostock): Amazing Phosphorous Ligands for Innovations in Carbonylation Chemistry
Christian Hackenberger (Leibniz-Forschungsinstitut für Molekulare Pharmakologie and Humboldt-Universität zu Berlin): How Do You Write Chemoselectivty? Of Course with a P!
Muriel Hissler (Université de Rennes): The Unique Properties of Organophosphorus Compounds for Optoelectronics
Helen Jarvie (University of Waterloo): Phosphorus Sustainability: Addressing Environmental Challenges of P Deficiencies and Excesses
To register for this free event, please click here. Also, feel free to promote this event within your societies and with your members. For more upcoming virtual events from Chemistry Europe please visit the Chemistry Europe Hub or Chemistry Views.
---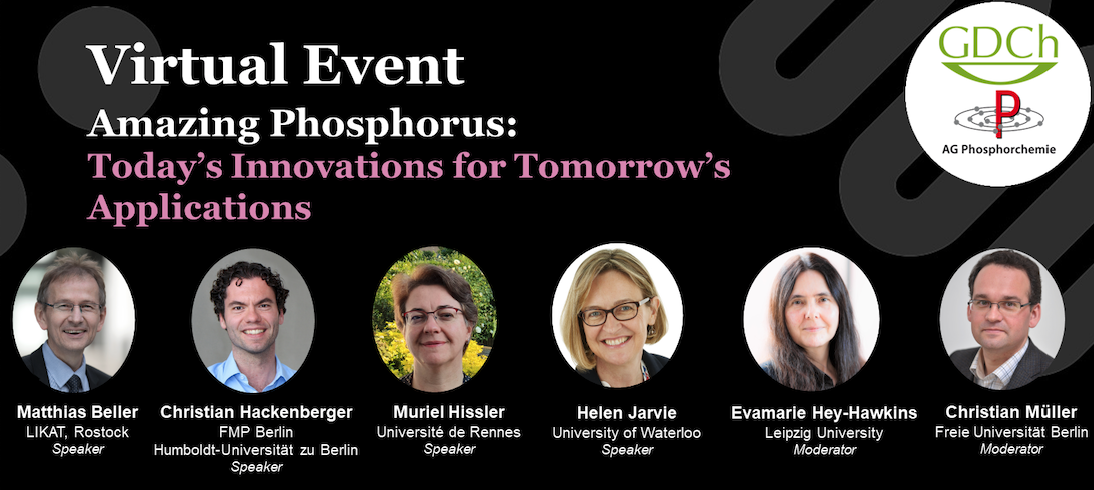 ---
Céline Wittwer, SCS
16.09.2021