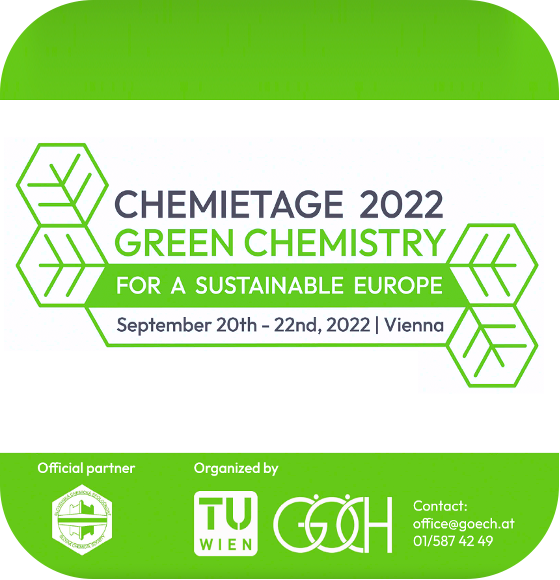 Die Österreichische Chemische Gesellschaft lädt alle SCG-Mitglieder herzlich zu den Chemietagen 2022 in Wien ein. Die Konferenz findet von 20. - 22. September 2022 am Campus Gusshaus der TU Wien statt. In der Tradition der gemeinsamen Konferenz freuen wir uns, dass die Slowakische Chemische Gesellschaft heuer der offizielle Partner ist.
Für Mitglieder der SCG gelten die reduzierten Teilnahmegebühren. Einfach bei der Anmeldung den Namen der Gesellschaft und eine Identifikationsnummer eintragen.
Chemietage 2022 der Österreichischen Chemischen Gesellschaft 2023
"Green Chemistry for a Sustainable Europe"
TU Wien Campus Gußhaus, Wien
20.-22. September 2022
chemietage.at
lnternationally recognised speakers from both universities and industry will be focusing on important questions relating to sustainability, energy storage, cabon capture end more. 
Deadlines
Early bird discount bis 30. Juni 2022
Call for Abstracts offen bis 31. Mai 2022
Bei Fragen stehen wir Ihnen gerne zur Verfügung!
Liebe Grüße aus Wien!
Walter Schneider

---
David Spichiger, SCS
08.04.2022