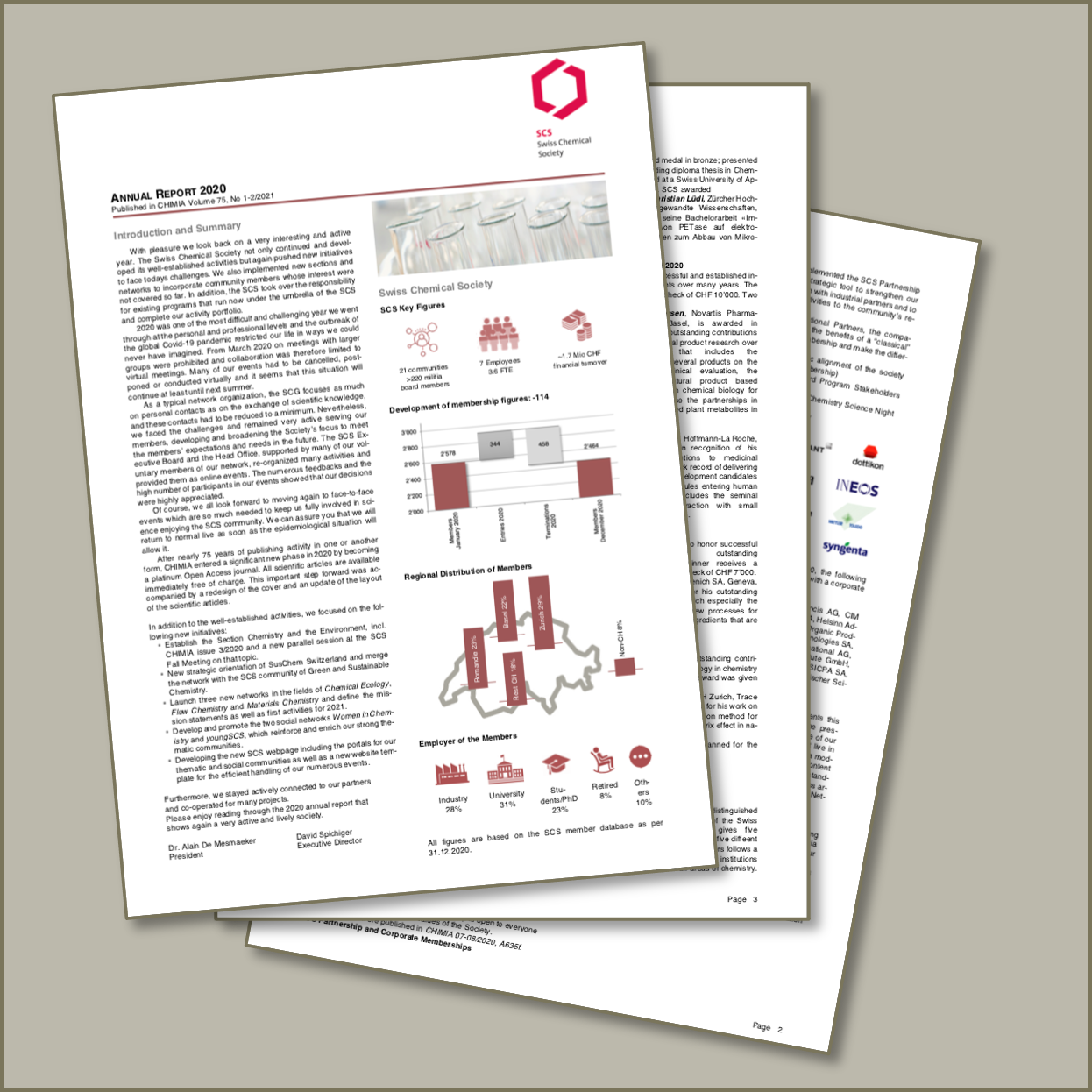 «2021 has been another very successful and active year for the SCS. Despite the difficult pandemic situation, we were able to have as many as reasonable live meetings with our Teams and SCS members. These events had a very special flavor in our constrained lives, and I really felt happy to finally meet and discuss with colleagues and friends. I wish that 2022 will allow SCS members to share and enjoy science together» 
Dr. Alain De Mesmaeker, President of the SCS 2016-2021
With pleasure we look back on a very interesting and active year. After 2020 and a year dominated predominantly by COVID-19 measures and restrictions, everyone hoped that 2021 would bring more normality. Unfortunately, the uncertainties surrounding the pandemic continued to prolong and affected also the SCS activities. Some events were again held as virtual events with online lectures, video presentations and innovative online platforms for networking, but others had to be postponed again and will hopefully now take place in 2022. However, there were also bright spots in the SCS calendar and in late summer and autumn the SCS organized seven events as face-to-face events.
One of the highlights was the first Swiss Chemistry Science Night, which was held at the Casino Bern in September 2021 after its cancellation in 2020. Even though the event had to be implemented somewhat smaller than originally planned, more than 80 invited guests enjoyed the evening and celebrated the implementation of this new, annual gala evening of the SCS.
The most important, new initiatives in 2021:
organization of the 1st Swiss Chemistry Science Night in Bern;
intensifying the collaboration with LS2 to participate in and further develop a seminar program in the field of IP and patents;
establishing a task force to address the structural deficit between Universities, Government and Industry to offer adequate career entry opportunities;
creating a special virtual issue of CHIMIA to celebrate the 75th anniversary of our membership journal;
migrating all CHIMIA content to a single platform based on OJS with go-live date in early 2022;
providing event organization services for third parties and support HRMS 2021 and NPC 2021 to implement their virtual international conferences; further developing the SCS event IT infrastructure including a video archive for short scientific communications (virtual posters);
extending the SCS Partnership program to 18 companies.  
Please enjoy reading through the 2021 annual report that shows again a very active and lively society.
Dr. Alain De Mesmaeker              David Spichiger
President                                              Executive Director
The SCS Annual Report is also published in CHIMIA Volume 76, No 1-2/2022
---
Céline Wittwer, SCS
02.03.2021