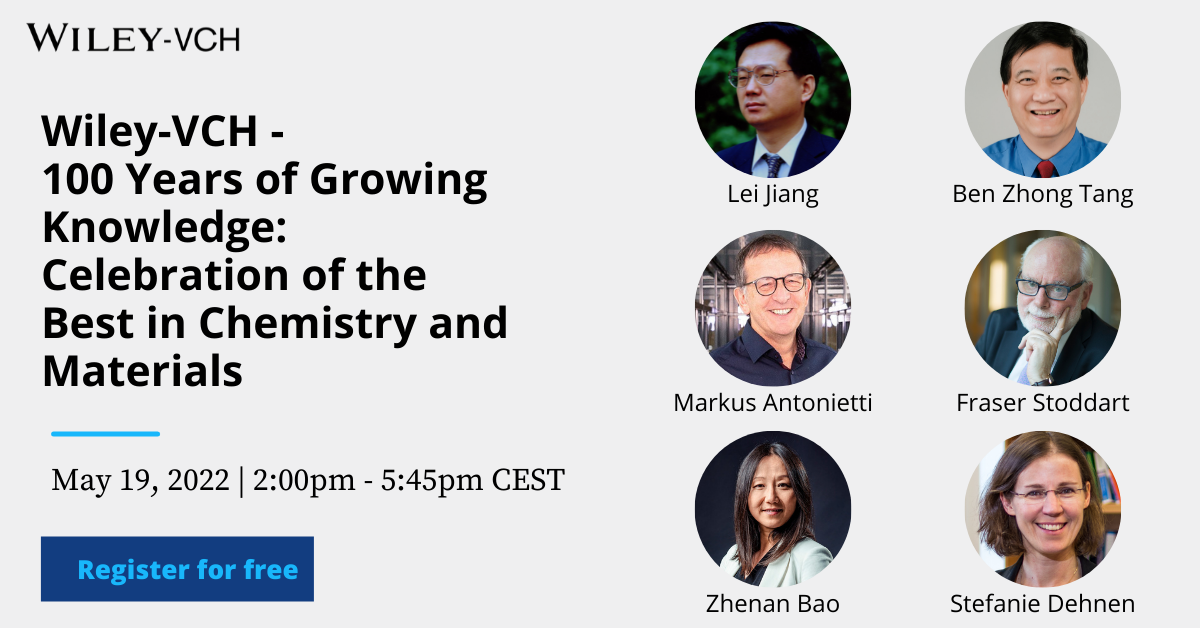 When: May 19, 2022, 2 p.m. CEST
This exciting event will be moderated by Neville Compton (Angewandte Chemie), Ulrike Kauscher Pinto (Advanced Materials, Advanced Functional Materials, Small, Advanced Healthcare Materials),Anne Nijs (EurJOC), and Jörn Ritterbusch (Advanced Functional Materials), and will highlight the best in chemistry and materials publishing.
Lei Jiang (Technical Institute of Physics and Chemistry, CAS Beijing): Super-Wettability and Beyond—Quantum-Confined Superfluid: Biological Energy Conversion, Chemical Reaction and Information Transfer
Ben Zhong Tang (Chinese University of Hong Kong): AIEgens and Beyond: Paradigm Shift from Molecularism to Aggregatism
Markus Antonietti (Max-Planck-Institut für Kolloid- und Grenzflächenforschung, Potsdam): The Invisible Giant Artificial Humic Acid: Soil Materials to Mediate the Climate Change
J. Fraser Stoddart (Northwestern University, Illinois): Artificial Molecular Machines
Zhenan Bao (Stanford University): Skin-Inspired Organic Electronics
Stefanie Dehnen (Philipps-Universität Marburg): Wiley-VCH, Clusters, and Us: A Story about Strong Bonding (and More)
To register for this free event, please click here.
For more information about this virtual event, please check out our Tweet, Chemistry Europe Hub and Chemistry Views.
---