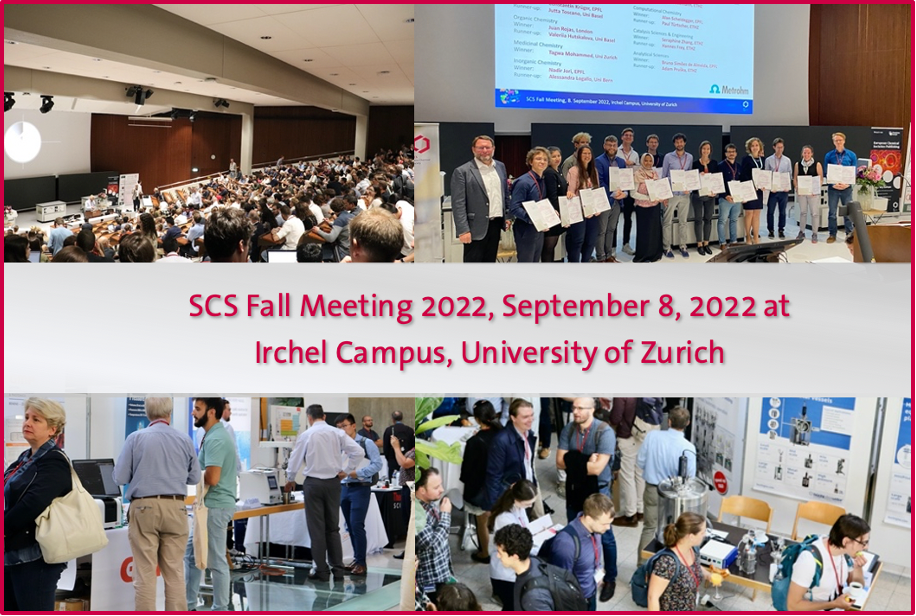 The SCS Fall Meeting 2022, one of the largest annual research conferences in Switzerland, took place at Irchel Campus of the University of Zurich on Thu, September 8, 2022. More than 800 participants attended the event, including many young scientists in education in Switzerland, for whom the fall meeting is a great platform to present their research - often for the first time ever at a major conference. After two years of online events due to the Covid 19 pandemic, we were finally able to hold the event on site. We received more than 450 contributions for a talk or poster presentation in one of the 9 parallel sessions.
SCS Fall Meeting 2022
Irchel Campus, University of Zurich
Thursday, September 8, 2022, 09:00 – 18:30
fm22.scg.ch
Award Lectures of SCS Prize Winners 2022 in the Plenary Sessions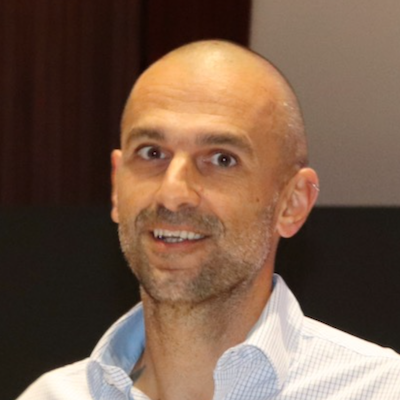 Sandmeyer Award Lecture 2022
Theodoro Laino, IBM Research, Zürich
«Fueling the Digital Chemistry Revolution with Language Models»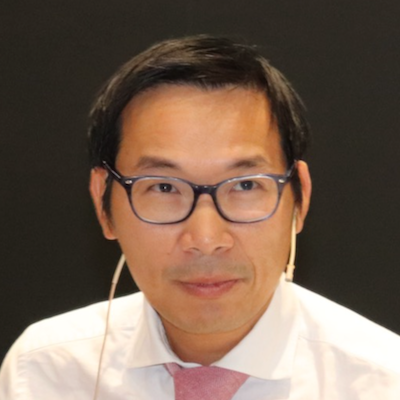 Swiss Green & Sustainable Chemistry Award Lecture 2022
Prof. Xile Hu, EPFL Lausanne
«Cooperative molecular, bio-, and electrocatalysis»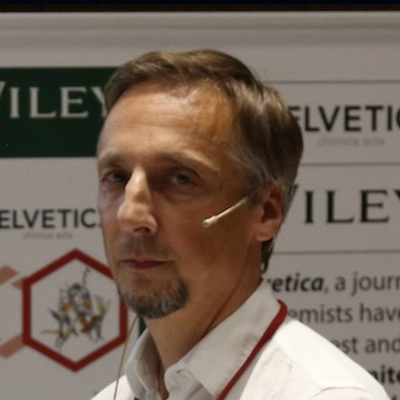 SCS Senior Industrial Science Award Lecture 2022
Dr. Bernd Kuhn, F. Hoffmann-La Roche AG
«Details matter in structure-based drug design»
Paracelsus Award Lecture 2022
Prof. Antonio Togni, ETH Zürich
«For the Sake of Making Molecules»
The Parallel Sessions included 2x 30min invited lecture and 10x 15min short talks from PhD students and Postdocs
The programs incl. the abstracts are still available on the website
Best Oral and Best Poster Presentation Award Program
In collaboration with Metrohm and DSM Nutritional Products, SCS offered again the very attractive and prestigious Fall Meeting Best Presentation Award program. We congratulate all winners again for their fantastic contributions.
Winners of the Best Oral Presentation Awards 2022
Winners of the Best Poster Presentations Awards 2022
Photos of the event
Take a look at the photo galleries and relive the memories of an unforgettable day: https://fm22.scg.ch/photos 
Report on Chemistry Views
Vera Koester, Wiley-VCH GmbH, published a report on the SCS Fall Meeting on ChemistryViews: https://www.chemistryviews.org/exciting-research-in-crowded-lecture-halls/ 
DOI: 10.1002/chemv.202200081
Thanks to organizers ans supporter
We like to take the opportunity to thank again Prof. Roger Alberto and Dr. Hans Peter Lüthi as chairs of the organizing committees, Dr. Ferdinand Wild as local organizer and all supporters from UZH and ETHZ.
Furthermore we like to thank all session sponsors and exhibitors that participated at the event and contributed not only financially but also with exciting lectures or innovative booths.
---
Céline Wittwer, SCS
12.09.2022