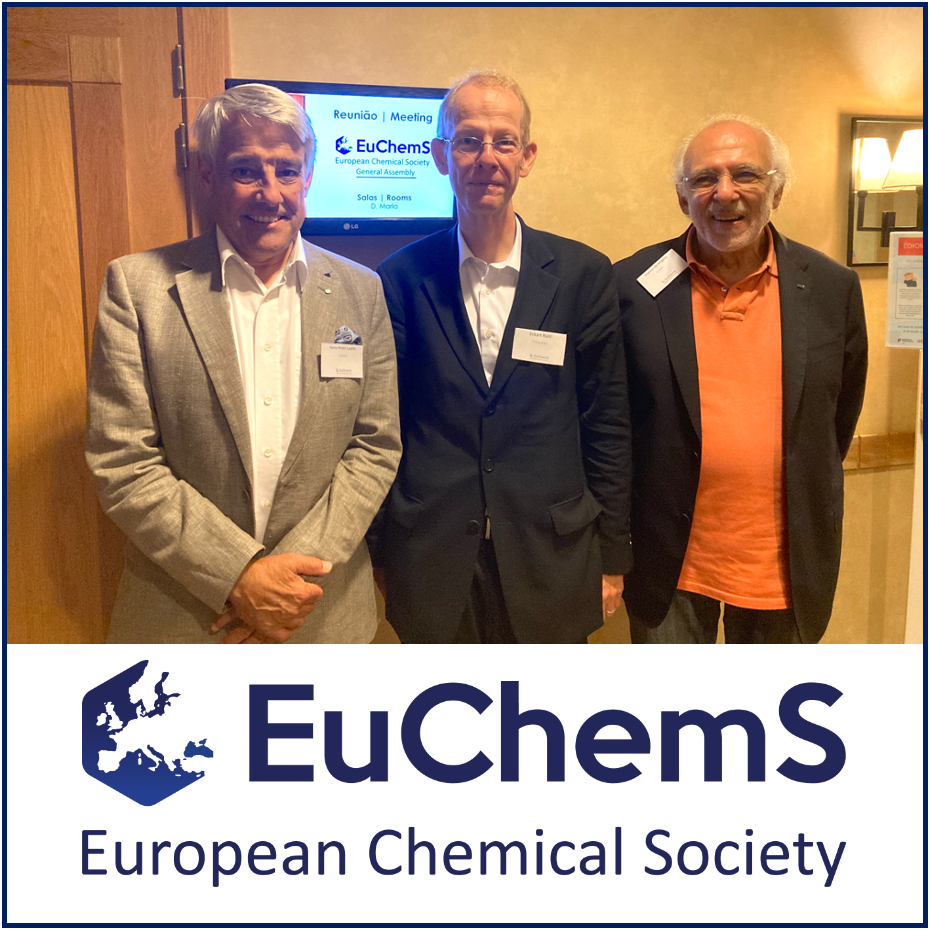 On August 26-27, 2022, the delegates of the EuChemS member societies as well as the EuChemS board members and selected guests met in Lisbon for the 2022 General Assembly. Prof. Floris Rutjes, President, and Nineta Hrastelj, Secretary-General, guided through the assembly and ensured that everything proceeded properly and in accordance with the statutes.
After presentation and a short discussion, all motions of the standard agenda items were approved and the organs were granted discharge. The most important business was the election of a new President-elect and a successor to the retiring trasurer. Prof. Angela Agostiano, full professor of Physical Chemistry, at the Department of Chemistry, University of Bari-Italy, was unanimously elected as President-elect from January 2023 and thus EuChemS President from January 2024. The nomination from the SCS of Dr. Hans Peter Lüthi as Treasurer was also confirmed without dissenting votes and Hans Peter will complete the Executive Board with his competences as of January 2023. With the election of Hans Peter Lüthi and the re-election of Christophe Copéret as executive board member last year, Switzerland is now represented with two delegates in the EuChemS Executive Board.
The 2021 income statement closed with a surplus of EUR 12'841, bringing the total assets of EuChemS and its divisions to around 632 kEUR.
Picture: Three generations of EuChemS treasurers: Hans Peter Lüthi (CH), Eckard Rühl (DE) and Francesco De Angelis (IT)
---
David Spichiger, SCS Executive Director represented SCS and Switzerland and is happy to answer your questions. As the minutes of the assembly is for internal use only we cannot share the full information. Please send your requests to
Agenda EuChemS General Assembly 2022
Lisbon, August 26-27, 2022, 
Session 1:
01 Welcome by the President and local host
02 Taking attendance and apologies for absence
03 Finalization of the agenda
04 President's business Floris Rutjes (15 min)
05 Secretariat updates Nineta Hrastelj (15 min)
06 EuChemS Divisions/WP: report and outlook Péter Szalay (15 min)
07 EYCN's updates Maximillian Menche (15 min)
08 Presentation of candidates for the Treasurer and for the President-Elect
 
Session 2: EuChemS Governance and Finances Chair: Floris Rutjes
09 Finances Eckart Rühl (30 min)
a) 2021 EuChemS aisbl accounts
b) EuChemS 2023 subscriptions and budget
c) Auditors of 2022 accounts
10 2023 plan of EuChemS activities
11 Membership application
12 AOB
13 Closing remarks
EuChemS Website: https://www.euchems.eu 
---
David Spichiger, SCS
31.08.2022