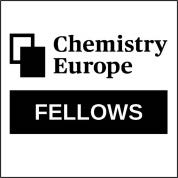 The Chemistry Europe Fellows Program was established in 2015 by the Chemistry Europe Presidents and Representatives to recognize members of the Chemistry Europe societies for their outstanding achievements and contributions to Chemistry Europe and their service to at least one member society.
The program is established to foster the identity of Chemistry Europe within continental Europe but is not limited to that continent. It is the highest honor given by Chemistry Europe.
Fellows receive a certificate and retain the designation as Chemistry Europe Fellow for life. The list of all Swiss based Fellows as well as the link to all Fellows is available on the SCS CE Fellow Website.
The Chemistry Europe Fellows will be announced and honored at the biannual EuChemS conference or during appropriate national meetings in the years in-between.
If you would like to nominate someone, please fill in the form before September 30, 2023. Self-nominations are not accepted.
More information: chemistryviews.org/fellows
---
David Spichiger, SCS
Karl Gademann, Swiss Representative in Chemistry Europe, UZH
09.05.2023