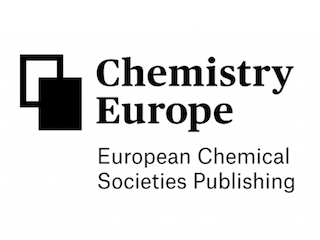 Chemistry Europe is an association of 16 chemical societies from 15 European countries, representing over 75,000 chemists. It publishes a family of high-quality scholarly chemistry journals, covering a very broad range of disciplines. 
The mission of Chemistry Europe is to evaluate, publish, disseminate, and amplify the scientific excellence of chemistry researchers from around the globe in high-quality publications. It supports its members at every stage of their careers as they strive to solve the challenges that impact humankind. In all its work, Chemistry Europe values integrity, openness, diversity, cooperation, and freedom of thought. 
ChemistryViews is the science news magazine of Chemistry Europe. It informs about what is happening in the global chemistry community and has a strong focus on the people behind the science.
The Fellows program recognizes members of the Chemistry Europe societies for their outstanding achievements and contributions to Chemistry Europe and their service to at least one member society. It is the highest honor given by Chemistry Europe.
The list of the Swiss CE Fellows is available on the respective SCS award website.
The Chemistry Europe Award recognizes outstanding contributions to chemistry. It includes prize money of EUR 10,000 and a certificate and is open to individuals worldwide, regardless of their affiliation with Chemistry Europe societies. 
Chemistry Europe Newsleter (3 per year, free) 
Twiter Account: https://twiter.com/ChemEurope 
Additional Services for Societies 
More Information (for example, on virtual events, special collections, …) on the Hub: htps://chemistry-europe.onlinelibrary.wiley.com/ 
---
David Spichiger, SCS / Vera Köster, Wiley-VCH
019.06.2023