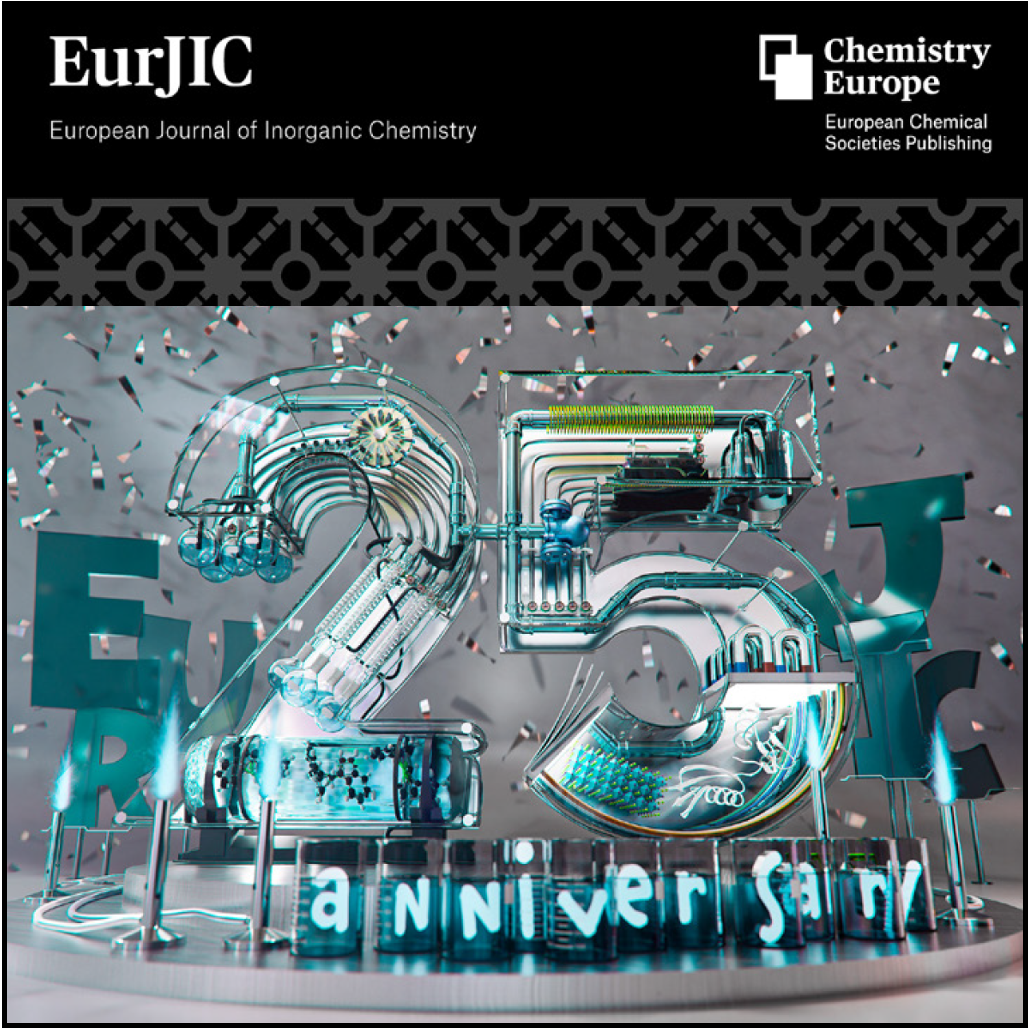 Twenty-five years ago, the Dutch and German chemical societies (KNCV and GDCh) took the initiative to create strong European journals with a global reach. Cooperation with more European national chemical societies soon followed, and the amalgamation of their national journals led to the formation of EurJIC under the ownership of Chemistry Europe. With its strong European roots, EurJIC has since developed into a leading inorganic chemistry journal serving an international community.
As EurJIC celebrates its 25-year anniversary, we are proud to share our achievements in 2022 with you.
Since 2013 the Swiss Chemical Society is a full member of Chemistry Europe and likes to congratulate EurJIC for its anniversary.
---
European Journal of Inorganic Chemistry
We publish significant research advancing the diverse field of inorganic chemistry.
 "For 25 years, EurJIC has showcased an amazing variety of topics and vibrant research in inorganic chemistry worldwide. It is a privilege to work with my colleagues in the Editorial Board and the engaged EurJIC editorial staff in the goal of bringing to the readers the best of inorganic chemistry."
Prof. Ana Albéniz, Universidad de Valladolid, Spain.
Editorial Board Chair 
Key Figures 2022
22

 

countries represented

 

in our Editorial Advisory Board
390+ articles published in 2022
25 days to review completion

 

17

 

Special Collections

 

in collaboration with our community in 2022
China, USA, Germany, India, and Japan are the countries with the highest number of readers of our content
1,168,669 full text

 

downloads

 

in 2022
Submit your paper
We invite you to submit your exceptional and innovative studies across the whole spectrum of inorganic, organometallic, bioinorganic, solid-state and inorganic materials chemistry.
Our top cited articles in 2022
Synthetic Applications of Sulfonium Salts 
by S. I. Kozhushkov and M. Alcarazo
Element-Ligand Cooperativity with p-Block Elements 
by L. Greb, F. Ebner, Y. Ginzburg and L. M. Sigmund
Small Molecule Activation by Two-Coordinate Acyclic Silylenes 
by S. Fujimori and S. Inoue
Follow @EurJIC on Twitter to get the latest updates. 
Website: https://chemistry-europe.onlinelibrary.wiley.com/journal/10990682c
---
Chemistry Europe / David Spichiger, SCS
28.06.2023