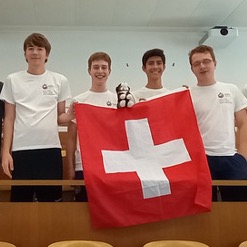 From July 10 to 18, 326 young talents from more than 80 countries competed in the fields of molecules, elements and reactions. Due to the ongoing global pandemic, the International Chemistry Olympiad (IChO) was held online for the third year in a row. For the four Swiss participants, however, the event was not limited to online participation. They spent an entire week in Basel, together with the teams from Austria and Germany.
Picture: chemistry.olympiad.ch
Members of the Swiss team:
Cedric Bärlocher Aguilar, Burgdorf High School (BE)
Silas Waldvogel, Kantonsschule Schaffhausen (SH)
Thomas Zaugg, Kirchenfeld grammar school (BE)
Yannik Straumann, Vocational Training Center Baselland (BL)
Silas Waldvogel won a bronze medal and Yannik Straumann was awarded an honorable mention.

Challenging tasks
"I am relieved and satisfied with the results we achieved," said Patrik Willi, president of the Swiss Chemistry Olympiad. A five-hour theory exam on July 13 decided about the ranking. This was very demanding, but not as difficult as Willi might have expected from the host country, China. Chemical understanding and also a lot of logical combinatory skills were required to arrive at the correct solution with the given information and equations. There was no practical test in the virtual competition, however, regrets Willi. Standing in the lab and experimenting is normally the strength of the Swiss participants.
Website of the Swiss Chemistry Olympiads: chemistry.olympiad.ch
---

International Chemistry Olympiads 2023 in Switzerland
For the first time, the International Chemistry Olympiad will be held in Switzerland next year. From July 16 to 25, 2023, around 300 young talents from over 90 countries will meet in Zurich. They will demonstrate their skills on paper and in the laboratory, make contacts and get to know the host country. In addition to the Swiss Chemistry Olympiad, the organizers include ETH Zurich and the Swiss Chemical Society.
More information: wwww.icho2023.ch
---
David Spichiger, SCS
20.07.2022