Mission of Materials 2030 Manifesto
Reaching climate neutrality, circularity, healthy food-systems and sustainability in agriculture, transportation, construction, packaging, electronic appliances, as well as completing the transition to renewable energy sources are among the greatest challenges humanity is facing today. Scientific evidence shows that action on climate change must have an interconnected and systemic response and this is exactly where advanced materials can and must deliver solutions.1 To achieve these solutions, Europe must maximise the sustainability features of new advanced materials and their visibility using advanced digital technologies. Sustainable advanced materials are a key driver for innovation, creating new opportunities on multiple dimensions and sectors. Our vision to enable the EU's twin green and digital transitions is anchored in good design principles combined with synergies between advanced materials, circularity, digital and industrial technologies.
They call for a systemic approach to develop the next generation solution-oriented advanced materials which will offer faster, scalable and efficient res- ponses to the challenges and thus turn them into opportunities for Europe's society, economy and environment today and in the future. They recognize that "Blue sky research" and applied research both play an integral part in this approach.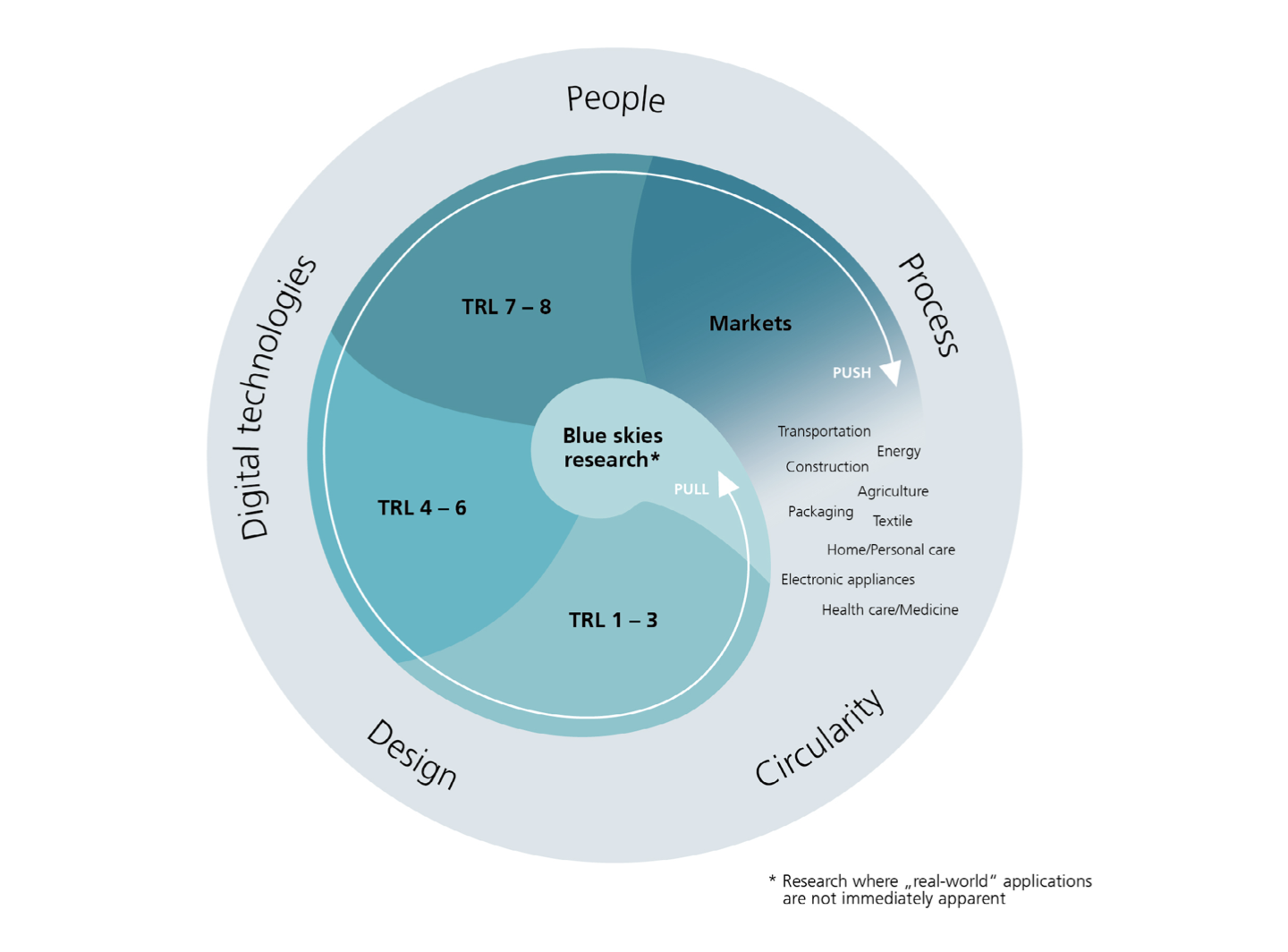 Challenges and Opportunities
The Green Deal and the Digital Decade address societal challenges through establishing high-priority policies for Europe. 70% of all technical innovations are directly or indirectly attributed to advanced materials.4 Yet, advanced materials often contribute to the dominant share of the
cost of technologies. Therefore, smart advanced materials' developments are indispensable and provide game-changing solutions driving the twin green and digital transformation. We believe that dovetailing upstream R&D and downstream applications development is fundamental to operating at the necessary speed, scale, and efficiency, thus offering strong solution-driven value creation.
Historically Europe is the place of inventions and has created many of the greatest breakthroughs for humanity. Critical to R&I is discovery-led research as ultimately it feeds directly or indirectly into end-user applications and industry. In short, there is no applied research without fundamental research in the long-run. Hence, it is critical for Europe to create a world-wide unique ecosystem that connects discovery-led low TRL research with application-orientation and links it synergistically with industry, including small and medium- sized enterprises.
Herein they outline four fundamental pillars that gene- rate the basis for the development of advanced materials. The following four fundamental pillars should be pivotal to the vision of scientists and materials designers when they innovate:
a) Safeguarding Europe's technology leadership;
b)  Reducing the environmental footprint by using advanced materials;
c)  Securing strategic autonomy; and,
d)  Targeting advanced materials innovation markets.
Materials are the physical substance all things are made of. Advanced materials are designed with a purpose to have novel or enhanced properties and improve performance over conventional materials, products and processes. They touch every aspect of our life; they impact the environment, society and economy. They can boost the transition to greener technologies and better healthcare, with improved characteristics and better performance, contributing to a more sustainable future.
On 7 February 2022 the Materials 2030 Manifesto* was presented to EU Commissioner Gabriel. The European Commission recognises the challenges and opportunities highlighted in Manifesto and will develop a roadmap for advance materials created with a wider set of experts and stakeholders by summer 2022.
---
Céline Wittwer, SCS
09.02.2022