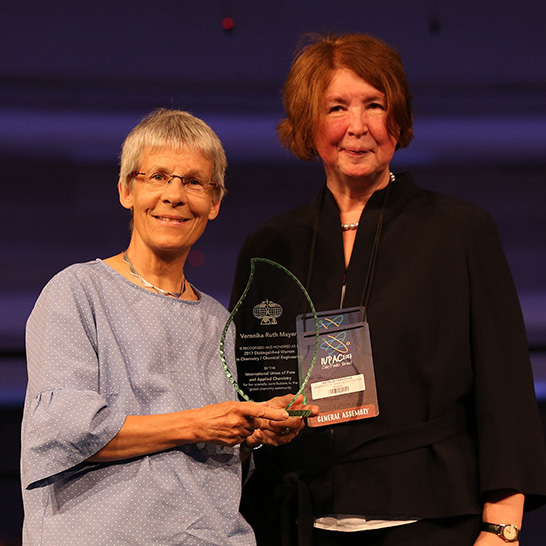 On the occasion of the IUPAC World Chemistry Congress in São Paulo, Brazil, on July 9 to 14, 2017, Natalia Tarasova, IUPAC president, awarded Veronika R. Meyer (left-hand on the photo) this prestigeous award for her outstanding contributions to develop and apply forefront analytical techniques for organic substances and her textbooks for HPLC practitioners that must be considered as standard texts for scientists involved with practical applications of HPLC.
Following an apprenticeship as laboratory assistant, Veronika R. Meyer studied chemistry at the University of Applied Sciences in Burgdorf, Switzerland. From 1976 to 1998 she studied and worked at University of Bern, where she completed in 1989 her PhD thesis in chemistry. Afterwards she spent postdoctoral stays at the Weizmann Institute of Science in Rehovot, Israel, and at the University of Delaware, USA. In 1996 she submitted her habilitation at the University of Bern, where she was teaching various topics of analytical chemistry in particular on High Performance Liquid Chromatography (HPLC). From 1998 to 2015 she worked at Empa, the Swiss Federal Laboratories for Materials Testing and Research in St. Gallen.
Veronika R. Meyer is author of numerous papers in international journals. Her publications are primarily dealing with various aspects of practical applications of HPLC and with issues of quality assurance and control of analytical methods. However, much more relevant are her textbooks for HPLC practitioners that she authored in English and German language. These single author volumes must be considered as standard texts for scientists involved with practical applications of HPLC.
Since 2002 Veronika Meyer is a member of the board of the Division of Analytical Sciences of the Swiss Chemical Society. Within the analytical sciences community she played an excellent role as an interface between the forefront basic scientists and the more applied researchers, who use analytical methods in their daily activities. In 2006 Dr. Meyer became a member of the Advisory Board of the journal CHIMIA that is published by the Swiss Chemical Society. She started to edit a series of practically oriented papers under the title "Highlights of Analytical Chemistry in Switzerland". Until the end of 2016 she managed the publication of 116 one-page articles that are considered to be extraordinary valuable for many analytical researchers.
---

Awardees of the IUPAC 2017 Distinguished Women in Chemistry or Chemical Engineering:
Prof. Misako Aida, Hiroshima University, Japan
Prof. Lifeng Chi, Soochow University, Suzhou, China
Prof. M. Concepción Gimeno, Institute of Chemical Synthesis and Homogeneous Catalysis (ISQCH), CSIC-University of Zaragoza, Spain
Dr Jaqueline Kiplinger, Los Alamos National Laboratory, Los Alamos, NM, United States
Prof. Zafra Lerman, Malta Conferences Foundation, Evanston, IL, United States
Prof. Thisbe K. Lindhorst, Universität Kiel, Germany
Prof. Ekaterina Lokteva, M.V. Lomonosov Moscow State University, Moscow, Russia
Prof. Yvonne Mascarenhas, University of Sao Paulo, Sao Carlos, Brazil
Dr Veronika Ruth Meyer, Empa St. Gallen (retired), Swiss Federal Laboratories for Materials Science and Technology, Switzerland
Prof. Ingrid Montes-González, University of Puerto Rico, San Juan, Puerto Rico
Prof. Frances Separovic, University of Melbourne, Australia
Prof. Jihong Yu, Jilin University, China
The awards program, initiated as part of the 2011 International Year of Chemistry celebrations, was created to acknowledge and promote the work of women chemists/chemical engineers worldwide. These 12 awardees have been selected based on excellence in basic or applied research, distinguished accomplishments in teaching or education, or demonstrated leadership or managerial excellence in the chemical sciences. The Awards Committee has been particularly interested in nominees with a history of leadership and/or community service during their careers.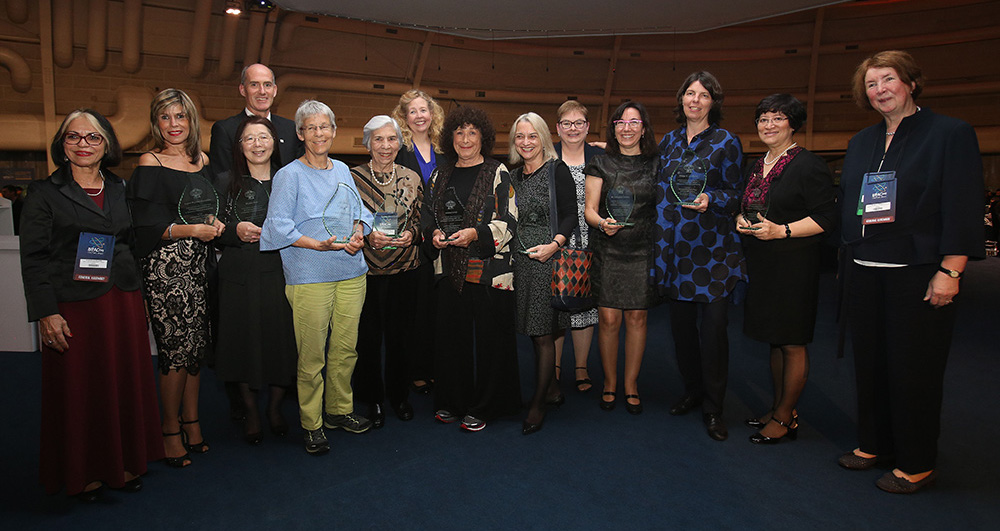 ---
David Spichiger, SCS
01.09.2017