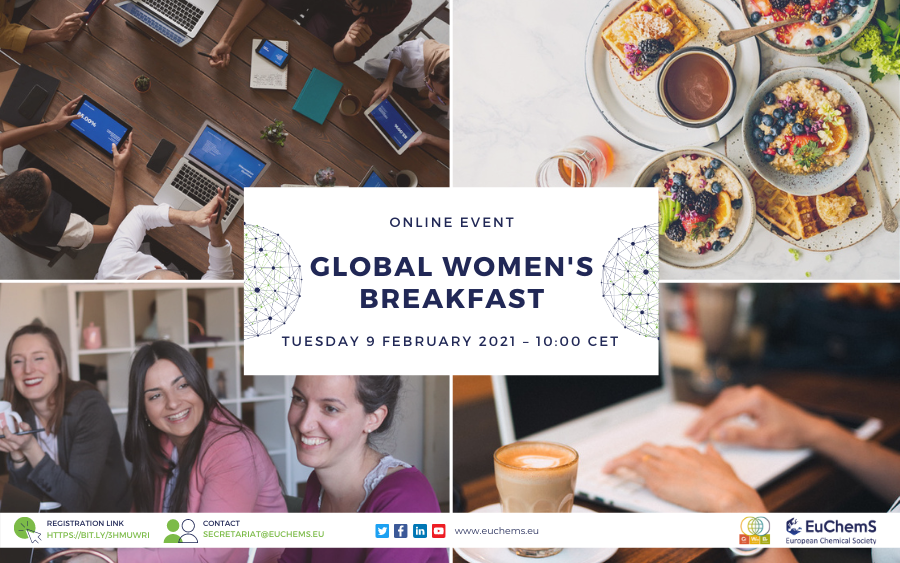 On the occasion of the Global Women's Breakfast 2021 #GWB2021, the European Chemical Society (EuChemS) is pleased to organise its own online event. You are invited to join us on Tuesday 9 February 2021, from 10:00 to 11:00 CET on Zoom.
Register here
 Topics for discussion:
Leadership Development
Building Professional Networks
Conversations/Discussions with Women Leaders
STEM education for school-age girls
Yrja Oftedahl (moderator) will lead the panel discussion.
Speakers:
Pilar Goya, EuChemS Vice-President (Host and Chair)
Angela Agostiano, Professor at the University of Bari
Carina Crucho, Treasurer of the European Young Chemists' Network (EYCN)
Nineta Hrastelj, EuChemS Secretary General
Slavica Ražić, Chair of the EuChemS Division of Analytical Chemistry and member of the EuChemS Executive Board
Gill Reid, President-elect of the Royal Society of Chemistry
Brigitte Van Tiggelen, Chair of the EuChemS Working Party on History of Chemistry
---
Céline Wittwer, SCS
25.01.2021