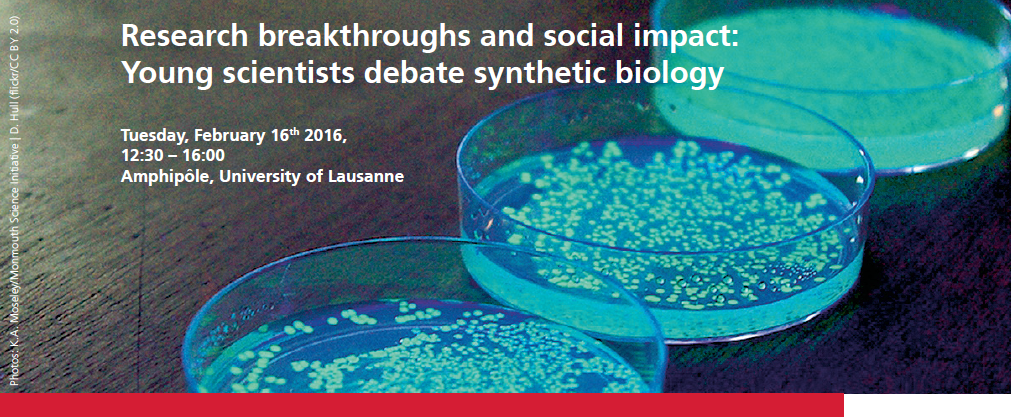 Research breakthroughs and social impact: Young scientists debate synthetic biology
Tuesday, February 16,2016, 12:30–16:00
Amphipôle, University of Lausanne.
Emerging technologies have the potential to offer new solutions for society's challenges but also raise concerns about safety and ethical implications. Synthetic biology is a maturing discipline aiming to modify, rebuild and design biological systems. Possible applications include production of biofuels in microalgae, synthesis of therapeutics in yeast cells or removal of pollutants' from the environment using bacteria.
How will synthetic biology transform – medicine? – the environment? – industry? – society? – our concept of life?
Young scientists will explore these questions together with the audience. All are welcome to join in on the discussion!
Program
14.00
Welcome
Patrick Matthias, President Forum for Genetic Research
14.05
Studying life from the bottom-up: the new approaches of synthetic biology
Jan Roelof van der Meer, University of Lausanne
14.25
Bio LOGIC, intracellular computing using dCas9
EPFL iGEM Team 2015 representatives
14.40
Round table discussion
16:00
End
This session will be held in English. Participation is free of charge. For further information and registration: www.naturalsciences.ch/synbio2016
Presented by the Forum for Genetic Research, Swiss Academy of Sciences in association with the BIO•FICTION Science, Art & Film Festival and Life Sciences Switzerland LS2.
This event is part of the LS2 Annual Meeting 2016. http://ls2-annual-meeting.ch



---
David Spichiger, SCS
04.11.2015