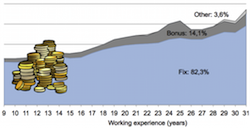 In collaboration with the Gesellschaft Deutscher Chemiker (GDCh) the SCS Division of Industrial & Applied Chemistry (DIAC) organized a salary and compensation survey for chemists working in Switzerland. A wide range of compensation factors like age, gender, education, working region, working experience, managing level, and others were analyzed and aligned to fix and variable compensation shares. The team around Prof. Christian Grund of the RWTH Aachen (Germany) analyzed 265 surveys with data records from 2014 including 102 answers from SCS Members.
The results reveal correlations between the main factors of common compensation models but show also some interesting new findings. Please note that the details of the study are available to survey participants only. The next survey will probably rolled out in early 2016 and if you like to be part of it you can register as an SCS and DIAC member respectively.
To become a SCS member, please fill in the form on http://scg.ch/membership.
To upgrade your existing membership to a DIAC membership, please update your profile on http://scg.ch/login.
---
David Spichiger, SCS
26.08.2015