---
Three-day symposium on
«Current developments, novel approaches and cutting-edge technologies in the field of Medicinal Chemistry»
Tuesday, March 7 - 10, 2021 - Online
Due to the COVID19-implications the conference will be conducted in a purely virtual setup.
---
The international symposium will focus on current developments, novel approaches and cutting-edge technologies in the field of Medicinal Chemistry with sessions on Molecular Glues/PROTACs, Covalent Fragments, Case Studies and Highlights in Medicinal Chemistry, Antivirals, CryoEM, Young Investigators and Cryptic Binding Pockets. The scientific program will include lectures and poster presentations. It is the goal of the organizers to make this meeting an event of scientific excellence, attractive to both industrial and academic scientists in Medicinal Chemistry, Chemical Biology and related fields of research.
A special session will be dedicated to the presentations of young group leaders. Therefore, young group leaders are particularly encouraged to apply for a short talk. The Organizing Committee will then select speakers from the submitted contributions.
Deadlines
Submission of oral presentations: December 6, 2020Submission of posters: December 6, 2020
Registration
Registration will start with the second circular (approx. in January 2021)

Information about the Scientific Program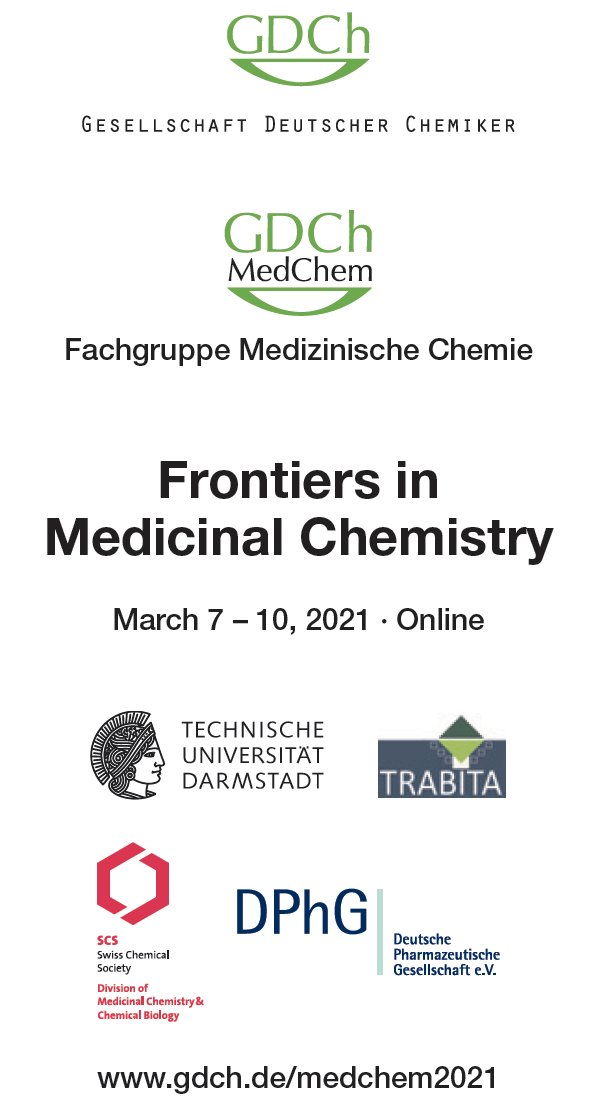 Prof. Dr. Felix Hausch
Technical University Darmstadt
Institute of Organic Chemistry and Biochemistry
Alarich-Weiss-Str. 4
64287 Darmstadt
Phone: +49 6151 16 -21245
E-mail:
Information about the Organization
Gesellschaft Deutscher Chemiker e. V. (GDCh)
(German Chemical Society)
Claudia Birkner – Event Team
P.O. Box 90 04 40
60444 Frankfurt am Main
Germany
Varrentrappstr. 40-42
60486 Frankfurt am Main
Germany
Phone: +49 69 7917-366
E-mail:
Internet: www.gdch.de
#FIMC2020
More Information: www.gdch.de/medchem2021
---
Céline Wittwer, SCS
14.10.2020