The DPCI Thesis Award of the division of polymers colloids an Interfaces of the swiss chemical society is awarded annually to a talented young scientist in recognition of an outstanding PhD thesis completed at a swiss university.
The thesis subject should bear relevance to the scope of the division (science of polymers, colloids and interfaces).
The award consists of a certificate and includes a cash prize of 1'000.- SFr.
Electable candidates should have their Ph.D. thesis completed before Oct 5th 2018.
The selection will be based on a single publication (completed or under preparation) drawn from the student's PhD thesis which has been published, or accepted for publication, during the last three years.
The top three candidates will then be invited to give a 15 minute talk about their thesis at the Polycoll  2018 meeting, which will take place on Friday, Oct 5th 2018 at the EPF Lausanne. The winner will be selected by the board members of the division. The award will be distributed at the end of the meeting.
Nominations are accepted from the thesis supervisor.
Please send your nomination, including the paper and the complete PhD thesis (only in electronic forms) by e-mail to the president of the Division: Prof. Dr. Christian Hinderling, until September 10 th, 2018.
---
Flyer of the Polycoll 2018 Meeting
Oct 5, 2018 at EPFL Lausanne: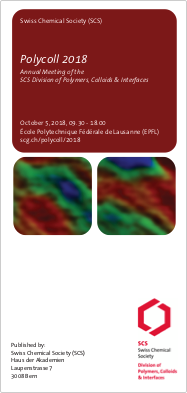 ---
Christian Hinderling, President DPCI
30.08.2018