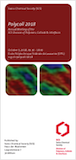 We are pleased to invite you to Polycoll 2018, the annual meeting of the SCS Division of Polymers, Colloids and Interfaces of the Swiss Chemical Society, that will take place at École Polytechnique Fédérale de Lausanne (EPFL) on Friday, October 5, 2018.
Graduate students and postdoctoral researchers active in the field are encouraged to share their recent results with the community and to apply for poster presentations, as this may foster connections between scientists at any career level, stimulate the exchange of research ideas, and result in future research collaborations.
PhD students are also invited to apply for the DPCI thesis award, that is endowed with CHF 1'000.
Program


09:30

Coffee

09:55

Prof. Christian Hinderling (Divison of Polymers, Colloids, and Interfaces)

Opening, Welcome

10:00

Prof. Pol Besenius (University of Mainz)

"Transient Thermogels Mediated by Redox-Responsive Supramolecular Polymerization"

10:45

Dr. Christophe Schmitt

(

Nestlé Research Center)

"Functional protein-based colloids for controlling structure and stability in food"

11:15

DPCI Doctoral Research Lectures (3 talks, 15 minutes each)

Lunch and Poster Session

13:30

Prof. Giovanni Pavan (SUPSI Lugano)

"The importance of defects in dynamic supramolecular polymers"

14:00

Dr. Stephen Schrettl

(AMI Fribourg)

"Responsive Materials Based 
on Non-Covalent Interactions"

14:30

Prof. Eric R. Dufresne (ETH Zurich)

"Elastic Control of Phase Separation in Polymer Composites"

15:00

Coffee break

15:20

15:30

Prof. Andreas Herrmann (DWI Aachen)

"DNA-hybrids and supercharged polypeptides: From nanomedicine to whiskey authentication"

16:15

Prof. Francesco Stellacci

(EPFL)

"Supramolecular Approaches to Fight Viruses"

16:45

Prof. Erik Berda (University of New Hampshire)

"Functional nanomaterials from single polymer chains"

17:15

Aperitif
Please find the full program, the possibility to register and to submit abstracts for poster presentations on the symposium website: scg.ch/polycoll/2018
We are looking forward to welcoming you in Lausanne.
With best regards,
Prof. Holger Frauenrath
Dr. Daniel Görl
Dr. Oguzan Oguz