---
The Swiss Chemical Society and the Contact group for research matters (KGF) are proud and happy to announce the winners of the KGF-SCS Industrial Investigator Awards 2015 and to honor their outstanding achievements.
---
We sincerely congratulate all winners and we are looking forward to the ceremonies and award lectures that will take place on the occasion of the SCS Fall Meeting in Lausanne on September 4 and 5, 2015.
KGF-SCS Distinguished Industrial Science Award 2015
CHF 15'000
The award is given to
Dr. Jürg Zimmermann, Novartis Pharma AG

for the ground breaking discovery of protein kinase inhibitors, which had a tremendous impact on the research and therapy of cancer and other diseases. The discovery and development of Imatinib (Gleevec) has revolutionized the therapy of certain forms of leukemia, and also had a tremendous impact on research projects both in industry and academia.
KGF-SCS Senior Industrial Science Award 2015
CHF 10'000
The award is given to
Dr. Michelangelo Scalone, F. Hoffmann La Roche,

for his outstanding contributions to the design of new, short and cost-efficient syntheses for many development projects by applying asymmetric catalytic reactions, and for his longtime success and expertise in leading the Center of Excellence Catalysis at Roche.


KGF-SCS Industrial Science Award 2015
CHF 7'000
The award is given to
Dr. Dietmar Hüglin, BASF Schweiz AG,

for his contribution in developing new ingredients for consumer product markets and specifically for the discovery, research & development of cosmetic UV absorbers combining chemistry with nano-technology. These innovations are setting currently the global standards in high performance photo-protection of human skin.

The prize program is supported by KGF: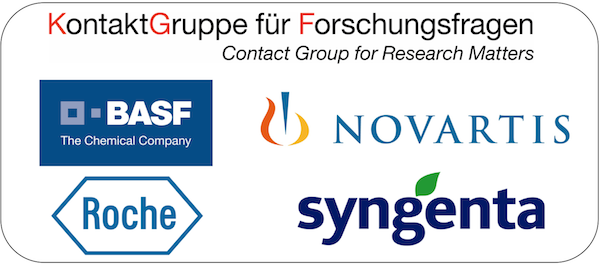 ---
David Spichiger, SCS
21.01.2015