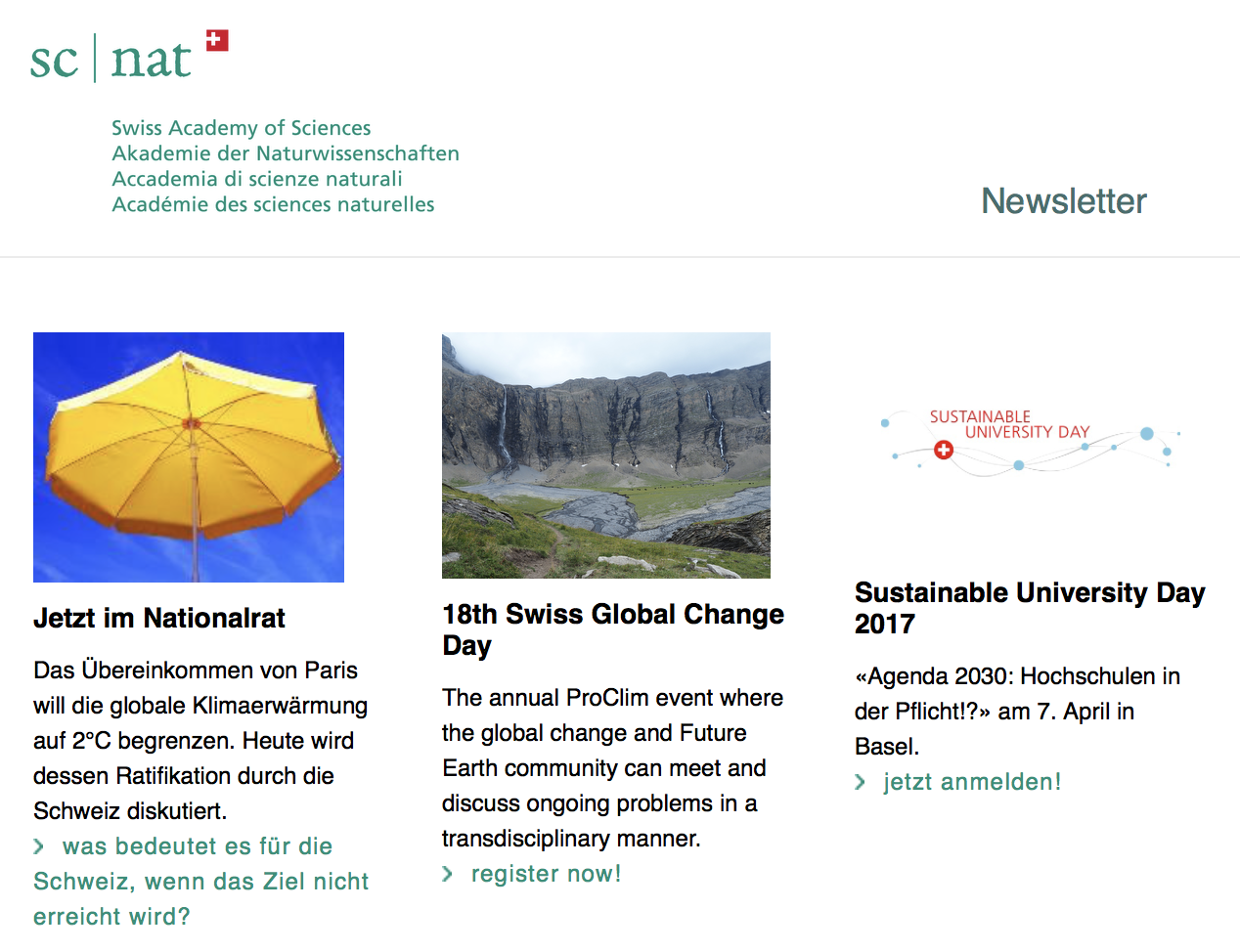 Jetzt im Nationalrat
Das Übereinkommen von Paris will die globale Klimaerwärmung auf 2°C begrenzen. Heute wird dessen Ratifikation durch die Schweiz diskutiert.
> was bedeutet es für die Schweiz, wenn das Ziel nicht erreicht wird?
18th Swiss Global Change Day
The annual ProClim event where the global change and Future Earth community can meet and discuss ongoing problems in a transdisciplinary manner.
> register now!
Sustainable University Day 2017
«Agenda 2030: Hochschulen in der Pflicht!?» am 7. April in Basel.
> jetzt anmelden!
10th International Carbon Dioxide Conference
£The 10th anniversary International Carbon Dioxide Conference will provide participants with an integrated, interdisciplinary view of the global carbon cycle and its perturbation by humans.
> abstract submission and registration
Vernetzung der Lebensräume – Die Wildtierbiologen sehen bunt
«Zerschneidung, Fragmentierung, Barrieren, Isolation» sind Begriffe, die jahrelang eine Flut von Studien ausgelöst haben. Postwendend kamen auch die Lösungen: Vernetzung, Korridore, Durchlässigkeit. Jetzt ist es an der Zeit, an den 12. Lysser Wildtiertagen (24.–25. März) einen kritischen Blick darauf zu werfen.
> Programm und Anmeldung bis 10. März
Sechste Ausschreibung von Agora
Agora will die Wissensverbreitung sowie den Austausch von Ideen und Meinungen über wissenschaftliche Forschung fördern. Entsprechend werden Projekte gefördert, die Interaktionen und gegenseitiges Zuhören beinhalten und so einen Dialog zwischen den Forschenden und der Bevölkerung in Gang setzen.
> weiter
Am Ende des Lebens
Horizonte setzt sich mit der Vergänglichkeit auseinander. Weitere Artikel befassen sich mit der Evolution der Kooperation und neuen Möglichkeiten CO2 zu binden. Zudem erzählt Bioethikerin Effy Vayena, wie sie zu ihren heiklen Forschungsthemen kam.
> lesen
weitere Veranstaltungen der SCNAT
> www.scnat.ch/events
---
David Spichiger, SCS
06.03.2017