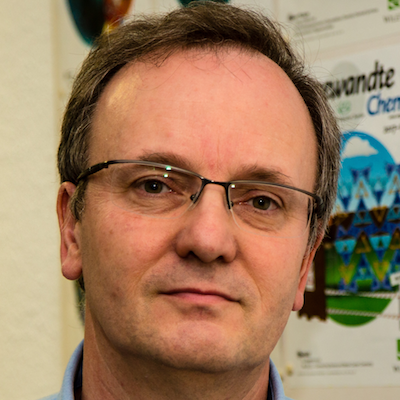 The German Chemical Society (GDCh) and Wiley-VCH would like to announce that Dr. Neville Compton will take over as Editor-in-Chief of Angewandte Chemie from October 1, 2017. Angewandte Chemie, the flagship journal of the GDCh, is a weekly publication steeped in tradition; the German edition is in its 129th volume, and the International Edition in its 56th.
The journal publishes articles from all fields of chemistry and related disciplines. In 2016 almost 2700 communications and ca. 150 reviews were published; in addition the journal has a vibrant magazine section. All these features combine to make Angewandte Chemie a worldwide leading scientific journal – not only in chemistry.
Dr. Neville Compton studied chemistry at the University of Newcastle Upon Tyne, carried out postdoctoral research at the University of Heidelberg, and joined the editorial team of Angewandte Chemie in 1992 at the age of 27. In 1997 he was promoted to Deputy Editor, and in 2002 he became also the Editor-in-Chief of Chemistry – A European Journal. Under Dr. Compton's editorship this journal has become one of the most important chemistry journals; Chemistry – A European Journal is the pre-eminent journal of ChemPubSoc Europe, an organization comprising 16 European chemical societies.
After 37 years working for Angewandte Chemie, 35 of which as Editor-in-Chief, Dr. Peter Gölitz is retiring. Under his leadership, Angewandte Chemie transformed from a national to a leading international journal; in 2016 the top four countries in terms of published papers inAngewandte Chemie were USA, China, Germany, and Japan. Peter Gölitz shaped the journal by attracting top authors from around the world and by developing the magazine section.
(quote: Neville Compton)
"I consider it a great honor to be offered this position at the flagship journal of the German Chemical Society. Like the GDCh, Angewandte Chemie is highly respected worldwide. I will do everything in my powers together with the Editorial Board and experienced Editorial team to further enhance the reputations of both and to ensure that Angewandte Chemie remains the premier location for top quality chemistry from top authors worldwide for years to come."
"Angewandte Chemie had long been the shop window for the best chemistry from Germany when I took over as Editor-in-Chief in 1982", so Dr. Gölitz, "it has been a pleasure to develop it into a platform for authors from all over the world; I am certain that Neville Compton will give Angewandte Chemie new impulses and strengthen its position further in the competitive environment ."
Prof. Thisbe K. Lindhorst, President of the GDCh underlines: "The GDCh Board of Directors enthusiastically endorses the nomination of Dr. Neville Compton as successor of Dr. Peter Gölitz. We are confident that Angewandte Chemie will continue its leadership and to set the standards among international chemistry journals. We are delighted that we can officially mark this changing of the guard at the 150th Anniversary celebrations of the GDCh in September in Berlin." GDCh Executive Director Prof. Wolfram Koch adds:
"We have in Dr. Compton found a new Editor-in-Chief who can maintain the strengths of Angewandte Chemie and thanks to his experience with Chemistry – A European Journal develop new routes to make the journal even more attractive to readers worldwide."
(Quote: Guido Herrmann, VP and Managing Director Wiley-VCH)
"Neville Compton is one of the most experienced editors and managers for scientific chemistry journals worldwide. Under his leadership Angewandte Chemie will further strengthen its position as a leading journal in the field."
---

About Wiley-VCH
Co-Founded by the Deutsche Chemische Gesellschaft in 1921 as Verlag Chemie, we can look back over 90 years of publishing in the fields of chemistry, material science, physics and life sciences as well as business and trade. Since 1996 we have been part of John Wiley & Sons, Inc., based in Hoboken, New Jersey, USA.
About Wiley
Wiley, a global company, helps people and organizations develop the skills and knowledge they need to succeed. Our online scientific, technical, medical, and scholarly journals, combined with our digital learning, assessment and certification solutions help universities, learned societies, businesses, governments and individuals increase the academic and professional impact of their work. For more than 200 years, we have delivered consistent performance to our stakeholders. The company's website can be accessed at www.wiley.com.
---
Angewandte, Wiley-VCH
21.06.2017