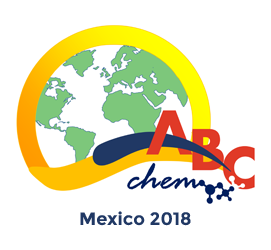 Atlantic Basin Conference on Chemistry
23-26 January 2018
Peninsula Convention Center, Iberostar Cancún Hotel, Mexico
Chemical societies across North and South America, Europe, and Africa invite chemistry professionals to the inaugural ABCChem Conference. This event will offer an opportunity for top scientists from around the Atlantic Basin region to share ideas and collaborate on current multi-disciplinary chemistry topics.
More information on http://abcchem.org


Submit an Abstract Now
The ABCChem Technical Programming Committee invites chemistry professionals across the regions to give oral and poster presentations. All potential presentations for ABCChem must be entered using the abstract submission website before the deadline of Monday, 18 September 2017.
Themes
Technical sessions for ABCChem will be arranged according to the four themes of the conference and all presentations, in both oral and poster formats, must address one of the following themes in order to be applicable:
Chemistry in Biology
Green Chemistry
Materials and Nano Chemistry
Physical and Analytical Chemistry
---
David Spichiger, SCS
12.09.2017