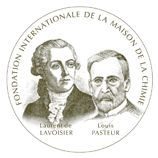 This Award is meant to honor an original work in chemistry of benefit to humankind, society or nature. The 2018 Prize will carry a monetary award of 35 000 Euros.
Created in 1986 on the initiative of the Board of the Fondation de la Maison de la Chimie, this Prize has been awarded in recent years to:
Professors John T. Groves and Dr. Jean-Pierre Maffrand in 2008
Professors Gérard Ferey and Jean Fréchet in 2010
Professor Ludwik Leibler in 2012
Professor Jean-Pierre Sauvage in 2014
Professor Vincenzo Balzani in 2016
In 2018, the Prize will be awarded to one or several nominees, irrespective of nationality.
Nominations must be presented by a learned Society or a national or international scientific Organization. Entry forms, accompanied by a report in French or English detailing the arguments for the nomination, must be returned – by electronic mail – before 30th April 2018 to the address shown below. Nominations will be evaluated by a jury composed of renowned members of the international scientific community. Unsuccessful entries may be renewed for subsequent awards of the Prize.
More information and entry form are available on our web site: www.maisondelachimie.com
More invormation about the call are availabe as pdf download
---
David Spichiger, SCS
11.10.2017