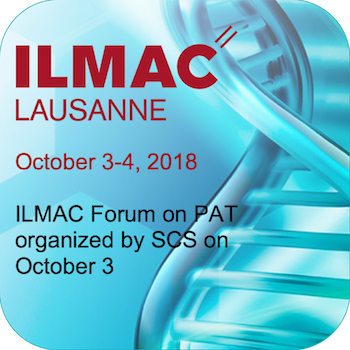 2nd ILMAC Lausanne
Wed 3rd to Thu 4th of October 2018,
Expo Beaulieu Lausanne, hall 7
Avenue Bergières 10, 1004 Lausanne
Opening times: 9 a.m. to 5 p.m.
ILMAC is providing the chemical and life science community with a platform in Lausanne and thus closing the gap on the French-speaking Swiss market. In a relaxed and convivial atmosphere, the latest knowledge is to be imparted at this event, coupled with an exhibition of high-quality product offerings.
---
SCS Symposium on PAT
SCS takes the opportunity and invites the Swiss PAT (Process Analytical Technology) community for the 2nd time to a symposium and offers an ideal platform to exchange latest trends and developments and to network. After a very successful first event at the SCS Fall Meeting 2017, we will meet as follows:
SCS Symposium on Process Analytical Technology (PAT)
ILMAC Lausanne 2018, Wed, 03.10.2018, 10.00-14.00h
Program
09.00
Opening
09.30
Coffee and Gipfeli
10.00
Welcome and Opening


Tobias Me

rz, Sr. Operation Technology Manager, Lonza AG
David Spichiger, Executive Director, Swiss Chemical Society
10.05
Use of Process Analytical Technology (PAT) for monitoring and optimizing powder mixing
Volker Kehlenbeck, Nestlé Product Technology Centre Lebensmittelforschung GmbH
10.30
How can you get more out of your data? Datamining @ Bosch Packaging
Marc Michaelis, Hüttlin GmbH, A Bosch Packaging Technology Company
11.00
Chemometric modelling to predict concentration of API in a solution flow
Samd Guizani, Ferring Pharmaceuticals
11.30
Digitalization in the Pharmaceutical Industry
Helge Engelking, Lonza AG
12.00
Preventing overflow metabolism in Crabtree-positive microorganisms using the PAT approach: progress and challenges
Michal Dabros, HES-SO, Haute école d'ingénierie et d'architecture, Fribourg
12.30
Identifying Process Critical Parameters through the QbD Approach
Bernd Heinen

,

JMP Software/SAS Institute

13.00
Diskussion
13.15
Common Lunch in Network Zone der ILMAC
---
Exhibitor contributions
---
Tickets are available on the ILMAC Website: www.ilmac.ch/lausanne or in directly via the following link: https://ticket.ilmac.ch/MCH/ILM2018/Register/Mch-Ilmac2018
The entrance to the fair and the participation at the symposium is free of charge.
We are looking forward to welcoming you in Lausanne on Oct 3.
Tobias Merz, Lonza Ltd.
David Spichiger, Swiss Chemical Society
---
David Spichiger, SCS
22.06.2018