The 15th Delegate Assembly (DA) of the European Young Chemists' Network (EYCN) took place in Sitges, Spain, on January 26–29, 2020 and it was organized in collaboration with the Catalan Chemical Society. Two Delegates of the Swiss Chemical Society, namely Dr. Jovana V. Milić (EPFL) and Amin Hodaei (EPFL), represented the Swiss Young Chemists' Association (SYCA) at the event.
During the DA, EYCN Delegates and board members presented their activities and discussed future plans. Moreover, this event hosted a number of special guests, including Prof. Javier García Martínez, the President-Elect of the International Union of Pure and Applied Chemistry (IUPAC), Prof. Pilar Goya Laza, the President of the European Chemical Society (EuChemS), and Dr. Haymo Ross, the Editor-in-Chief of Chemistry—A European Journal. While Prof. Javier García Martínez talked about the future perspectives in chemical sciences, Prof. Pilar Goya Laza shared insights on the role and activities of EuChemS, and Dr. Haymo Ross discussed the publishing metrics.
Dr. Jovana V. Milić and Amin Hodaei participated in the activities of the EYCN with their roles as the Leader of the Networks team and member of the Global Connections team, respectively. The Networks team is dedicated to increasing the impact of the EYCN through its activities and international partnerships with academia, industry, and governmental bodies, while connecting and supporting young chemists. The Global Connections team, however, focuses on global outreach to expand the contact of the EYCN outside of Europe. Moreover, Dr. Jovana V. Milić chaired an interactive session on Science Policy that provided a forum for the delegates to express their view on the European policy and discuss strategies to jointly address some of the ongoing concerns.
The 15th DA also involved the elections for the next DA and the European Young Chemists' Meeting (EYCheM) in 2021 and the Swiss Chemical Society was elected to host the event in Fribourg, Switzerland. The SYCA will thereby organize this event in collaboration with the EYCN, which will provide a great opportunity for the Swiss Chemical Society that we look forward to.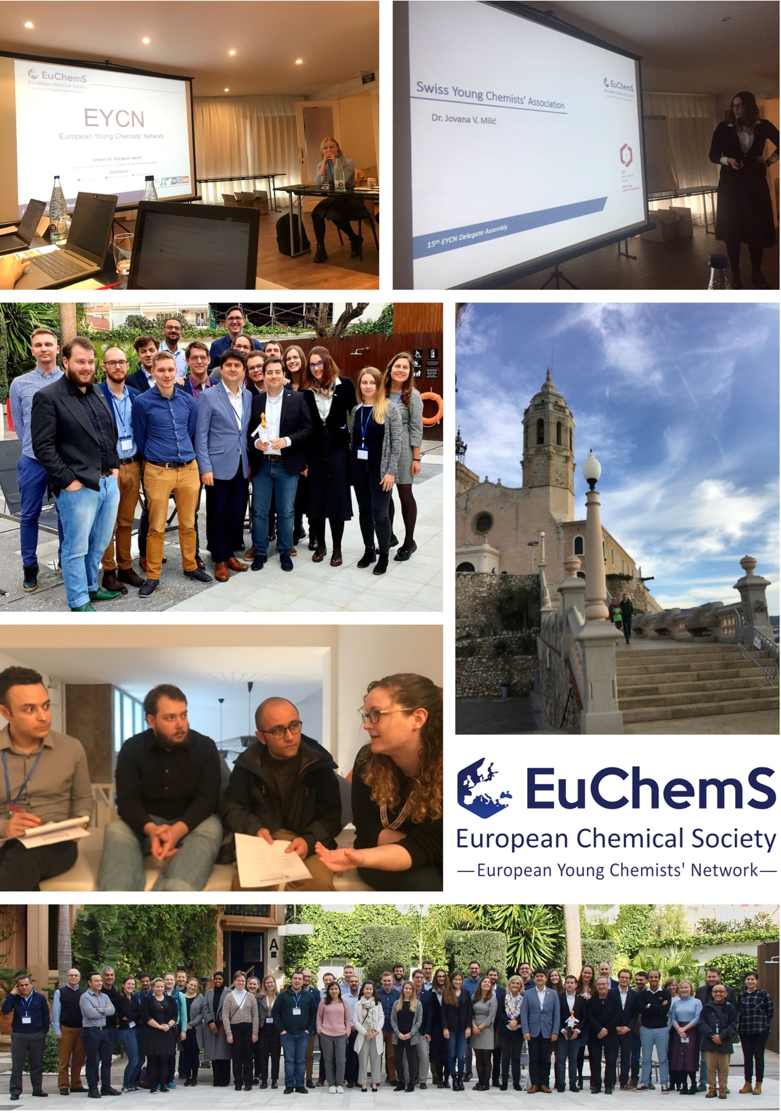 Impressions from the 15th Delegate Assembly of the EYCN in Sitges, Spain